What Is a Mesothelioma Specialist?
Patients who receive treatment at certain medical centers have access to a multidisciplinary team of mesothelioma specialists. Throughout the United States, mesothelioma medical centers offer treatment programs implemented by some of the top mesothelioma specialists, including doctors, nurses, and social workers.
Get Free Mesothelioma Guide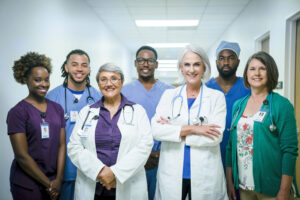 Types of Mesothelioma Specialists
Doctors in the United States diagnose about 3,000 new cases of mesothelioma each year. Mesothelioma specialists are trained oncologists who work with multiple mesothelioma patients. Doctors with proper experience have undergone extensive training and education related to mesothelioma diagnoses and treatment.  Mesothelioma treatment requires care from a whole team of specialists and supporting staff. A thoracic doctor may perform life-extending procedures, like a pleurectomy and decortication. Other types of oncologists administer other treatment options, such as radiation therapy.
Treatments and services offered at mesothelioma medical centers aim to extend patients' lives and make the pain more manageable. A mesothelioma patient's treatment journey can consist of nearly a dozen specialists and support staff in various disciplines. These roles provide physical care or emotional care to mesothelioma patients.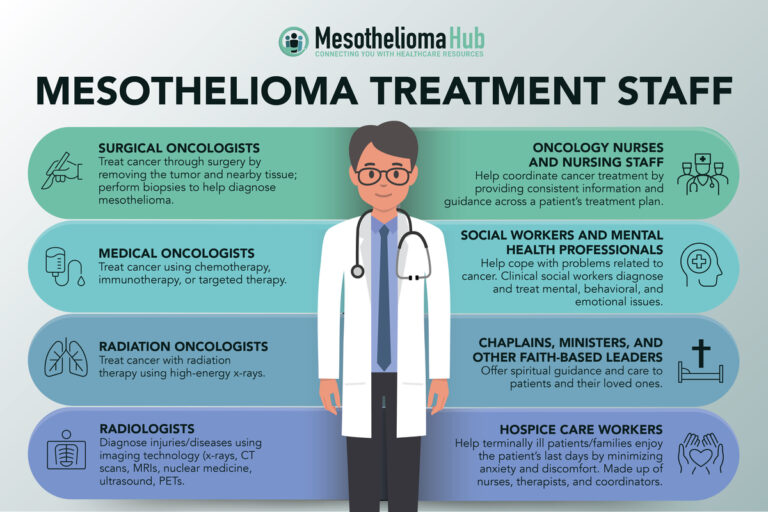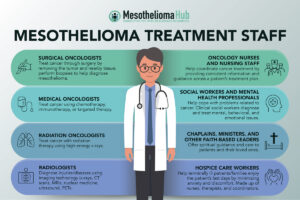 Medical Oncologists
A medical oncologist is a doctor that treats cancer using chemotherapy, immunotherapy, or targeted therapy. The role of a medical oncologist consists of assisting patients in all areas of their cancer journey, including diagnosis and treatment. Medical oncologists coordinate with other experts to develop tailored treatment plans for each mesothelioma patient.
Radiation Oncologists
Radiation oncologists treat cancer with radiation therapy. This type of doctor works with patients to prepare, receive, and recover from radiation therapy. Treatment with radiation therapy involves high-energy x-rays. An expert mesothelioma radiologist oncologist has extensive knowledge and experience treating mesothelioma patients with radiation therapy.
Surgical Oncologists
Surgical oncologists treat cancer by removing affected tissue. Typically, pleural mesothelioma patients undergo extrapleural pneumonectomy or pleurectomy with decortication to extend their lives or pleurodesis to relieve pain. Patients with peritoneal mesothelioma may have cytoreductive surgery with HIPEC. The treatment involves surgery to remove affected tissues and tumors combined with heated chemotherapy applied directly to the site.
Radiologists
Radiologists use their education and experience in radiology to diagnose mesothelioma from X-rays, CT scans, MRIs, and PET scans. Using imaging technology, radiologists can locate solid mesothelioma tumors in various body parts. Radiologists can also monitor the progress of the disease through regular tests.
Pathologist
A pathologist is a specialist in the study of biopsies. When a surgeon or specialized pulmonologist has collected a biopsy sample, a pathologist can determine if a patient has cancer. Mesothelioma patients may work with a pathologist to understand the cell type so treatment can be administered accordingly.
Pulmonologists
A pulmonologist is a doctor that specializes in the respiratory system, including the structure and function of the lungs, windpipe, and surrounding tissue.  Physicians who specialize in the medical field of pulmonology focus on certain diseases, such as COPD, pulmonary fibrosis, or mesothelioma. Pleural mesothelioma occurs in the lining of the lungs and chest cavity. Patients may be referred to see a pulmonologist to help manage symptoms through prescription medications or breathing therapies.
Nurses and Nursing Staff
Nurses and nursing staff help provide information to the patient about coordinated treatments and assist in other aspects of a patient's treatment plan. Many patients received in-home care from nurses or nursing assistants.
Hospice Care Workers
Hospice care workers provide end-of-life care to terminally ill patients. Minimizing anxiety and discomfort helps patients enjoy their last days with loved ones. A hospice care team may consist of nurses, therapists, doctors, and care coordinators.
Social Workers
Mental health professionals such as social workers, psychiatrists, psychologists, and therapists help with the emotional well-being of a patient and their loved ones. Mental health workers diagnose and treat clinical, emotional, and behavioral issues.
Palliative Care and Pain Management Specialists
Complications can occur from mesothelioma or its treatment. Palliative care is most commonly sought after when patients experience tumors blocking airways or pressing against nerves. A palliative care specialist can help them control this pain through surgery, radiation, chemotherapy, or less-invasive techniques such as breathing exercises. When symptoms are controlled, mesothelioma patients can improve their quality of life.
Other cancer care team members:
Anesthesiologists
Cardiologists
Dietitians
Gastroenterologists
Genetic Counselors
Primary Care Physicians
Histopathologists
Rehabilitation Therapists
Ministers, Chaplains, or Other Faith-Based Leaders
Benefits of Treatment at a Mesothelioma Medical Center
Patients who receive care from a mesothelioma specialist have access to some of the best minds in the field. Access to a team of specialists can significantly improve a mesothelioma prognosis. Most mesothelioma treatment centers accept many forms of insurance. Other financial options are available to help cover the costs of treatment. The top benefits of receiving care from a mesothelioma specialist include:
Experience
Specialists who have become experts in the field are familiar with all things mesothelioma. From diagnosing to treating, their experience helps avoid misdiagnosis or undergoing the wrong treatment.
Located at Top Mesothelioma Medical Centers
Mesothelioma specialists often work in some of the top medical centers in the country. The highest-rated mesothelioma medical centers provide patients with more resources and the latest treatment options. Some of the most advanced treatments are developed by specialists at mesothelioma medical centers.
Specialists Continue Learning
Experts in mesothelioma continue developing their expertise throughout their entire careers. Mesothelioma specialists follow the latest advancements as they log hundreds of hours in their practice. Through clinical trials, doctors continue to find new ways to treat mesothelioma.
Top Mesothelioma Specialists
The best mesothelioma doctors have experience in diagnosing or treating mesothelioma patients. Mesothelioma specialists are often located in medical centers that conduct extensive research in treatment and prevention.
Paul Sugarbaker, MD – Oncologist
Dr. Paul Sugarbaker is a mesothelioma specialist known for his abdominal surgery developments using HIPEC. The surgical oncologist became one of the leading peritoneal mesothelioma experts through his advancements and research for the International Mesothelioma Program.
Anne Tsao, MD – Oncologist
Dr. Anne Tsao is a medical oncologist and the director of the MD Anderson Cancer Center at the University of Texas. Dr. Tsao specializes in thoracic cancers, including mesothelioma.
Raja Flores, MD – Thoracic Surgeon
Dr. Raja Flores is a leading pleural mesothelioma specialist and thoracic surgeon. Flores is an expert in both the research and treatment of the disease and currently serves as Chief of Thoracic Surgery at the Mount Sinai Medical Center.
Robert Cameron, MD – Thoracic Surgeon
Dr. Robert Cameron is a thoracic surgeon and the director of thoracic oncology at the University of California Los Angeles Medical Center. Cameron specializes in thoracic pain management, video-assisted surgery, immunotherapy, and lung volume reduction surgery.
Marcelo DaSilva, MD – Thoracic Surgeon
Dr. Marcelo DaSilva is a thoracic surgeon and Medical Director of Thoracic Surgery for AdventHealth Orlando. DaSilva has previously worked with mesothelioma patients at the Brigham and Women's Hospital.
Raphael Bueno – Thoracic Surgeon
Dr. Raphael Bueno is a thoracic surgeon, Chief of Thoracic Surgery, and vice-chair of surgery for cancer and translational research at Brigham and Women's Hospital in Boston. As an expert in mesothelioma and lung cancer, Bueno continues to help innovate current treatment options.