5 New Mesothelioma Clinical Trials for 2022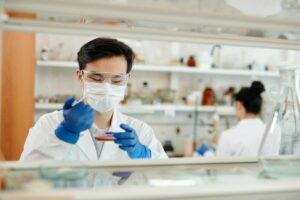 Are There New Mesothelioma Treatments?
Mesothelioma, an uncommon but deadly type of cancer, was diagnosed in over 30,800 people worldwide in 2020. Although there are many known forms of treatment, such as chemotherapy, medical professional still perform research to determine alternative treatment options. Clinical trials are experimental studies to determine the efficacy and safety of new treatments, prevention methods, and much more. Medical professionals are always looking for a cure for this deadly form of cancer.
This mesothelioma clinical trial for treating patients with rare mesothelioma tumors is in phase II. This particular trial is for mesothelioma patients with rare tumors such as epithelial tumors or squamous cell carcinomas. According to this trial, immunotherapy drugs for mesothelioma with monoclonal antibodies, such as nivolumab and ipilimumab, might help a patients's body. They claim that these antibodies assist the body's ability to attack cancerous cells and interfere with tumor cells' ability to grow and metastasize.
The Memorial Sloan Kettering Cancer Center is studying HPN536 in patients with advanced mesothelioma that continues to develop despite standard therapy. The Memorial Sloan Kettering Cancer Center is one of the top medical centers researching mesothelioma treatment. The mesothelioma research focuses on HPN536, an investigational drug that attaches to a protein on the surface of cancer cells and proteins on immune system cells. The HPN536 drug brings immune cells in contact with cancer cells, stimulating the immune system to fight the cancer cells.
This new mesothelioma treatment is in phase I of a targeted mesothelioma vaccine for patients with persistent pleural tumors. The trial combines a WT1 cancer vaccine, Galinpepimut-S, with checkpoint inhibition, Nivolumab, in patients experiencing malignant pleural mesothelioma. The Galinpepimut-S vaccine targets a protein called WT1, found on the surface of mesothelioma cells, and boosts a patient's immune response. Nivolumab inhibits a protein that typically halts an immune response, making the immune system better at finding and destroying cancer cells.
This phase I mesothelioma experimental trial involves 3 different treatments. The experimental groups will either undergo TAK-500 treatment alone or combined with the Pembrolizumab drug. The FDA approved the Pembrolizumab treatment, a drug to improve the outcome of patients with squamous cell mesothelioma cancer.
This phase I study evaluates the safety and preliminary efficacy of SO-C101 as monotherapy and in combination with Perbrolizumab, or Keytruda, a mesothelioma treatment. This clinical trial is focused on adult patients with metastatic solid or advanced stage mesothelioma tumors.
Mesothelioma medical professionals are constantly advancing mesothelioma treatment through the power of clinical trials. Connect with a mesothelioma expert today to determine the next steps of your journey.