Dr. Anne Tsao
Dr. Anne Tsao is a medical oncologist at the MD Anderson Cancer Center where she serves in the Department of Thoracic-Head and Neck Medical Division of Cancer Medicine, specializing in mesothelioma and thoracic medical oncology.
Get Free Mesothelioma Guide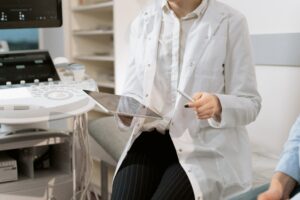 Dr. Anne Tsao's Impact on Mesothelioma
"Besides my research in [mesothelioma], I also became an advocate on the national level for these patients." – Anne S. Tsao, MD
Anne Tsao, MD, is an impactful leader of the mesothelioma community. Dr. Tsao specializes in thoracic medical oncology and is a figurehead in the study of mesothelioma cancer and thoracic oncology. Anne Tsao's mesothelioma work at MD Anderson Cancer Center connects patients with clinical trials that have the potential to change lives.
Dr. Anne Tsao and MD Anderson Cancer Center
Anne Tsao is primarily located at MD Anderson Cancer Center where she serves in the Department of Thoracic-Head and Neck Medical Division of Cancer Medicine. The Thoracic-Head and Neck Medical Division focuses on providing mesothelioma treatment and prevention of aerodigestive cancers through clinical and laboratory research. She is the Director of the Mesothelioma Program as well as the Chemo-radiation Program at MDACC. MDACC is one of the top medical centers for mesothelioma treatment in the nation.
Before Dr. Anne Taso's mesothelioma treatment specialization, she received her MD at the University of Chicago and her BA in Molecular Biology at the Massachusetts Institute of Technology. She currently serves as a Professor of Thoracic Head and Neck Medical Oncology at MDACC and is a nationally renowned doctor.
Dr. Anne Tsao Medical Specializations
Doctor Anne Tsao's specialties include malignant mesothelioma and thoracic oncology. Her research primarily focuses on cancer therapy through the understanding of the molecular mechanisms of the diseases. Dr. Tsao currently serves as the Co-Chair of the MDACC Clinical Research Committee where she is the principal investigator of several clinical trials. In particular, Tsao's research specializes in mesothelioma and identifying novel targets.
She also aims to advance awareness of clinical trials for cancer patients. Dr. Tsao and her team of mesothelioma doctors, work to match patients with clinical trials that best suit their individual cases.
Publications by Dr. Anne Tsao
Dr. Anne Tsao has participated in over 100 publications in medical journals such as the Journal of Clinical Oncology and the Journal of Thoracic Oncology answering some of mesothelioma's most pressing questions.
Extrapleural Pneumonectomy vs Decortication for Mesothelioma
Dr. Anne Tsao's publication compared perioperative outcomes and survival of mesothelioma patients who underwent an extrapleural pneumonectomy versus a pleurectomy/decortication. The study concluded that the two operations had comparable long-term outcomes. Because the two were considered comparable, it was determined that a patient should undergo the most tolerable treatment.
Mesothelioma Updates on Therapeutic Options
This journal outlines the updates for malignant pleural mesothelioma therapeutic options. As malignant pleural mesothelioma has so few treatment options, Dr. Anne Tsao describes new treatment developments. Some of the innovations detailed in the publication are gaining momentum to assist in better treatments for mesothelioma.
Alisertib in Mesothelioma
Aurora kinase A, Alisertib, treatment often yields durable disease control in pretreated mesothelioma patients. A phase II trial of Alisertib in salvage malignant mesothelioma found that several patients achieved durable disease control. However, there were no confirmed partial or complete responses.
How Can I Contact Dr. Tsao?
Dr. Tsao's primary location is at the MD Anderson Cancer Center in Houston, Texas. You can reach Anne Tsao, MD, through the email address [email protected], or by phone at  713.792.6363 for specialized mesothelioma treatment. If you need assistance getting in touch with Dr. Tsao, Mesothelioma Hub can help. Connect with us today to reach Dr. Anne Tsao.