The Mesothelioma Journey: Treatment Plan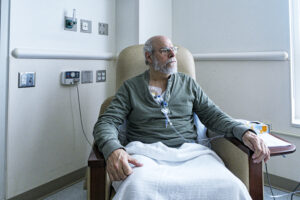 Welcome to part 4 of our 5-part blog series: The Mesothelioma Journey. Follow along as we follow the mesothelioma journey of Allen, a 65-year-old from Corpus Christi, Texas. We follow Allen's journey from the first contact with asbestos to living a life after treatment.

Catch up with part one of the Mesothelioma Journey: Was I Exposed?
Rewind to part two of the Mesothelioma Journey: Do I Have Symptoms?
See part three of the Mesothelioma Journey: Mesothelioma Diagnosis.

Check out part five, the final step of Allen's Mesothelioma Journey; Life After Mesothelioma.
Mesothelioma Treatment Plan and Cancer Care Team
A cancer care team is a combination of doctors, nurses, and other health professionals that develop a personalized mesothelioma treatment plan for each cancer patient. For an effective treatment plan, it takes a whole cancer care team to treat each patient.
Primary members of a cancer care team can include those who work directly with a patient, such as a primary physician, oncologist, nurses, or dieticians. Health care professionals who work behind the scenes, such as laboratory technicians, histopathologists, and members of the surgical team, also perform important tasks that benefit the patient.
Allen can expect a whole team of medical staff to guide him through his pleural mesothelioma treatment journey. From his primary physician to his oncologist and surgeon, the opinions of several medical experts will determine how to treat Allen's mesothelioma.
Determining the Mesothelioma Treatment Plan
A treatment plan depends on the location and stage of the disease, overall health, and treatment history. Treatment options are available to improve a mesothelioma prognosis using a variety of methods and medications.
Doctors keep the patient's symptoms and ability to recover in mind when recommending treatment plans. Early-stage cancer patients may receive multiple rounds of a single form of treatment or a combination of several types. A plan involving multiple treatments is known as multimodal therapy.
Allen's overall health is ideal for a stage 2 mesothelioma patient, and he is well enough to undergo more intensive treatment options such as surgery. Allen is entitled to a second opinion from another oncologist if he feels he is not suited for invasive treatments.
Most mesothelioma treatment plans involve surgery, chemotherapy, radiation, immunotherapy, or targeted therapy. New, emerging treatment techniques and drugs for mesothelioma treatment are also available at certain treatment centers through clinical trials.
The stage of Allen's disease has not progressed further than his chest cavity and he is in overall good health.  Allen's cancer care team recommends a treatment plan involving surgery and chemotherapy.
Preparing for Mesothelioma Treatment
If you're preparing for treatment, simple changes before, during, and after treatment can help keep your body is as healthy as possible. These changes, such as getting enough sleep and eating healthy food, can help fight off tumors and withstand adverse reactions from therapy.
Although relatively healthy, Allen began making small changes shortly after his initial diagnosis. Getting enough consistent sleep and maintaining a healthy diet have already given him enough energy for his upcoming treatment.
When preparing for treatment, make arrangements to and from the hospital or cancer care center from a loved one or caregiver. You may also need assistance with grocery shopping, doctor's appointments, or emergencies.
Pleural Mesothelioma Treatment
Allen receives chemotherapy intravenously, allowing the drugs to enter the bloodstream. Multiple chemotherapy drugs make up the treatment Allen receives. This neoadjuvant therapy is meant to shrink tumors and kill cancer cells before surgery. 
Surgery to remove tumors is a curative form of mesothelioma treatment. Patients eligible for curative surgery are typically early-stage mesothelioma patients and are in good health. Patients may undergo surgery as a palliative form of treatment, meant to relieve pressure in the chest.
Allen's specialized mesothelioma oncologist recommends surgery as a curative treatment to remove a part of his pleural lining and chest lining, where the cancer is present. This procedure, called a pleurectomy, will aim to remove as much cancer as possible. The remaining cancer cells are treated with heated chemotherapy (HITHOC) applied directly to the affected area.
Both cancer and cancer treatment cause side effects ranging from fatigue and diminished appetite to diarrhea and vomiting. To help manage the side effects of mesothelioma treatment, patients can use complementary treatments to work in conjunction with more intensive therapies.
Allen manages the side effects of his treatment with breathing exercises, consuming ginger to reduce nausea, and daily exercise. With the help of an entire cancer care team and his will to make serious life changes, Allen approaches the 5th and final step; life after mesothelioma.