Construction Workers and Mesothelioma
Construction is a booming sector. In 2016, there were over 10 million construction workers employed in the United States. And in 2018, the Bureau of Labor Statistics (BLS) reported that employers sought construction workers to fill approximately 225,000 jobs each month in the first quarter of the year alone. Unfortunately, construction workers have a high risk of occupational asbestos exposure and, consequently, mesothelioma and other cancers.
Get Free Mesothelioma Guide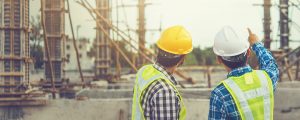 Hazards of Construction Work
Construction consistently ranks as one of the top 10 most dangerous professions. The Occupational Health and Safety Administration (OSHA) recognizes the most prominent dangers construction workers face as the "Fatal Four" — falling, being struck by an object, being electrocuted, and being caught in or compressed by equipment. 21.1 percent of all occupational fatalities in 2016 were among those working in the construction industry. According to the BLS, the "Fatal Four" accounted for more than half of those deaths.
While less recognized, exposure to toxic substances is another serious danger facing construction workers. Toxic substances lurk all-around construction sites — mists, dusts, vapors, and fumes all present a real health risk. In 2014, the BLS released that 2,000 construction workers reportedly suffered from work-related illnesses that affected their lungs or skin, 100 of whom were poisoned in some way. The BLS also estimates that nearly 69 percent of work-related injuries and illnesses go unreported, meaning the number of people affected by exposure to dangerous toxins is likely double this number.
Asbestos Regulations
OSHA has established regulations, such as the Permissible Exposure Limit (PEL), to protect workers and limit unnecessary exposure to toxic substances. Asbestos is among one of the hazardous toxins facing construction workers. Though asbestos has been recognized as a cancer-causing substance and is no longer used in new construction, it's still a threat to workers in this industry. Employees in this field should be aware of the dangers of asbestos exposure and what to do if they think they may have been exposed, as well as the safety procedures outlined to keep them safe.
The Environmental Protection Agency (EPA) also passed a set of national regulations in 2018, known as the NESHAP. The NESHAP's purpose is to ensure adequate and proper asbestos removal from contaminated structures before any demolition, construction or renovation projects. The owner or parties in charge of the structure are usually the ones held accountable and can be fined and even sent to prison for noncompliance.
What Is Asbestos?
Asbestos is a group of minerals, traditionally known for their fire- and sound-resistant properties. Historically, asbestos has been used in residential and commercial applications like insulation and paint, as well as roofing and flooring materials.
When asbestos fibers become airborne, they can enter the body and become lodged in the lining of the chest and abdominal cavities. Over time, irritation from these fibers can cause scar tissue to form. This can eventually result in mesothelioma, aggressive cancer that develops on the mesothelium, a thin layer of tissue that lines the organs of the chest and abdomen.

Construction Occupations at Risk of Asbestos Exposure
While its usage has dwindled, asbestos still poses a threat to today's construction workers. Demolition and renovation crews working with older structures, especially those built before 1970, face a higher risk of being exposed to asbestos while on the job. Not only do these sites contain asbestos, but they become more dangerous over time, as aging asbestos products become brittle, increasing the likelihood of crumbling and becoming airborne.
Most crews working around asbestos are trained on its safe-handling. However, one mistake can send the toxic material into the atmosphere, putting the entire construction site at risk. Occupations at an elevated risk for asbestos exposure include:
Brick layers
Bulldozer operators
Carpenters
Crane operators
Demolition crews
Drywallers
Electricians
Insulation workers
Painters
Pipefitters
Plasterers
Plumbers
Railroad workers
Renovation workers
Roofers
Tile setters
Airborne asbestos can travel for miles. Construction workers who have been exposed may bring asbestos home with them on their clothing, skin, or hair, putting their loved ones at risk. It's crucial that you take all necessary safety precautions to avoid second-hand asbestos exposure.

Taking Legal Action
If you have been diagnosed with an asbestos-related disease as a result of occupational exposure, you may be entitled to financial compensation. You may be eligible to receive compensation from workers' compensation or from asbestos trusts. A specialized asbestos attorney will be your best resource if you decide to pursue legal action.