FAQs About Veterans Benefits
Veterans make up 30 percent of patients who suffer from mesothelioma. Certain benefits are available to veterans through the U.S. Department of Veterans Affairs. Dealing with veterans benefits can be difficult for mesothelioma patients. However, we have assembled a list of frequently asked questions to help you along your way.
Get Free Mesothelioma Guide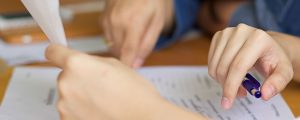 Overview of Veterans Benefits
Veterans Benefits can sometimes seem difficult or complicated to attain. We have put together some common FAQs about veterans benefits so that you have a lot of important resources in one place.
Firstly, this form of financial compensation is for citizens who served in the United States military and received an honorable or general discharge. The U.S. Department of Veterans Affairs (VA) provides financial, medical, and other assistance to veterans through several programs, including:
Disability compensation
Education programs
Veterans' pension programs
Free or low-cost medical care through VA hospitals
Veterans diagnosed with mesothelioma were most likely exposed to asbestos through military property during their service. Asbestos is a carcinogen that was heavily used by the military between the 1930s and the late 1970s.
When asbestos is ingested or inhaled, the microscopic fibers can become stuck in the mesothelium – the protective lining of the lungs, heart, and abdomen. Trapped asbestos fibers can cause cells to mutate into malignant mesothelioma cells.
Veterans who developed mesothelioma due to military exposure are eligible for veterans benefits. However, the process may be tricky without an asbestos lawyer's help and, as a result, veterans may have several questions. Here are some popular FAQs from veterans about their benefits.
The U.S. military was once one of the largest consumers of asbestos. If you're a veteran, let us assess your case for exposure risks.
Evaluate My Case
FAQs About Attaining Veterans Benefits
Do I qualify?
Receiving benefits from the VA typically depends on the type of discharge from active military service. To receive benefits, veterans must have actively served full-time as a member of the Army, Air Force, Coast Guard, Marine Corps, or Navy, and received an other-than-dishonorable-discharge.
What asbestos-related diseases does the VA recognize?
| VA-recognized cancers | VA-recognized conditions |
| --- | --- |
| Bronchus | Asbestosis |
| Gastrointestinal tract | Fibrosis |
| Larynx | Pleural effusions and fibrosis |
| Lungs | Pleural plaques |
| Pleura or peritoneum | Tumors |
| Urogenital (except prostate) | |
A doctor must state in writing that asbestos caused one of the above illnesses. Asbestosis and mesothelioma don't need this form of statement, because the VA accepts them automatically.
What factors does the VA consider when deciding on my asbestos claim?
The VA will want to collect records of asbestos exposure in the military. These records should determine how much asbestos exposure the veteran had at work before and after military service.
Will a lawsuit against an asbestos company affect my VA disability benefits?
A lawsuit against a company that produced asbestos will not affect VA benefits. The VA does not consider compensation from a lawsuit or an asbestos trust fund. However, you cannot receive compensation from the VA or government more than once for the same illness.
What's a Disability Benefits Questionnaire (DBQ)?
A DBQ is a type of questionnaire that VA physicians use when examining the veteran for disabilities. The purpose of a DBQ is to ensure that exam records contain all the information needed for a physician to rate a disabled veteran's condition.
Benefits
The VA offers different kinds of benefits to mesothelioma victims. These benefits can range from health care to compensation. Some more FAQs about veterans benefits:
How much does the VA pay in disability compensation?
The VA bases compensation for claims on the percentage of the awarded disability level, which goes from 0 percent to 100 percent in 10 percent increments. The number of dependents and if the veteran or their dependents require the assistance of another person are other factors that determine compensation.
One hundred percent of mesothelioma or lung cancer victims are typically approved, which equates to nearly $3,000/mo. for a single veteran and slightly more ($3,139/mo.) for married veterans.
Do I qualify for a VA pension?
Pensions are generally available to low-income, disabled wartime veterans. However, there are different qualifications based on when you served. Disabled veterans are eligible for a pension if they have served for more than 90 days of active duty with at least one of those days falling during a wartime period.
Eligible wartime periods, according to the VA:
Mexican Border Period (May 9, 1916 – April 5, 1917, for Veterans who served in Mexico, on its borders, or adjacent waters)
World War I (April 6, 1917 – November 11, 1918)
World War II (December 7, 1941 – December 31, 1946)
Korean conflict (June 27, 1950 – January 31, 1955)
Vietnam era (February 28, 1961 – May 7, 1975, for Veterans who served in the Republic of Vietnam during that period; otherwise August 5, 1964 – May 7, 1975)
Gulf War (August 2, 1990 – through a future date to be set by law or Presidential Proclamation)
What is Aid & Attendance (A&A)?
Aid & Attendance is a benefit that covers veterans who need daily care from another person, like a nurse. Veterans receiving VA Disability or VA Pension may be eligible to receive compensation through A&A. This benefit covers the cost of the veteran's caregiver.
Do I qualify for housebound benefits?
Veterans who cannot leave their homes due to their disability may be eligible for housebound benefits, such as increased pension or in-home care. In order to receive housebound benefits, veterans must qualify for a VA disability or pension.
What are my health care options as a veteran?
Veterans who have VA Health Care can receive treatment at any VA Health Care hospital. Free healthcare is only available at VA hospitals, but veterans may also use their private health insurance at whichever hospital they prefer.
What are VA benefits for spouses and dependent children?
VA Dependency and Indemnity Compensation (VA DIC) offers benefits to spouses and children of veterans who die from a service-related disability like mesothelioma. These benefits may include health care, monthly stipends, or educational training.
Do I qualify for funeral and burial reimbursement?
If a veteran passes away from a service-related illness after September 11th, 2001, the VA will pay up to $2,000 to cover funeral and burial fees. Since 2014, the payment has been automatic and can be applied directly to funeral costs.
Are there benefits available to veterans with mesothelioma and other asbestos illnesses where the majority of the veteran's exposure occurred in their civilian jobs?
Veterans with disabilities from non-service may qualify for VA Pension. Veterans must meet several qualifications to receive this form of compensation:
Either totally disabled or over the age of 65
Served at least 90 days of active duty (with at least one day during a wartime period)
Have an annual household income under a specified limit
FAQs About Filing a Claim For Veterans Benefits
Veterans who want to file a claim for benefits will have to prove that at least 50% of their exposure to asbestos came from military service. After they show proof of exposure, veterans with mesothelioma generally only have to show confirmation of the diagnosis to be eligible.
How do I file a VA claim?
To start the claims process, a veteran must have three things:
A current diagnosis of an asbestos-related illness recognized by the VA
Proof of exposure to asbestos during the time they served
A letter from a doctor to prove the current disease diagnosis is a result of asbestos exposure
There are four ways to file a VA Claim:
Apply online through eBenefits
Contact a qualified attorney
Get into touch with a Veterans Service Organization
Visit a VA regional office
How long does it take the VA to make a decision?
The average number of days to complete disability-related claims is 109 days. The amount of time it takes to review your VA disability claim depends on:
How long it takes us to collect the evidence needed to decide your claim
How many injuries or disabilities you claimed and how complex they are
The type of claim you filed
What happens after I file a VA disability claim?
The VA will let you know once they have received the claim by messaging you or sending you a letter. A Veterans Service Representative (VSR) will review the claim, gather evidence, and make a decision.
When the VA makes its decision, a claim decision packet will be sent through the mail and will include details of the decision on the claim.
Can I Receive More Compensation?
Veterans benefits do not affect personal injury claims against companies that produced asbestos. You may be able to receive even more compensation by taking the next step.