CAR T-cell Therapy Side Effects
The side effects of CAR T cell therapy typically include flu-like symptoms, low red and white blood cell counts, and some psychological complications.
Get Free Mesothelioma Guide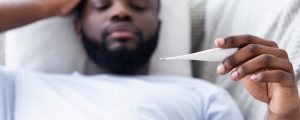 What Are the Side Effects of CAR T-cell Therapy?
Typically, patients are prescribed immunotherapy medication to help the body identify and attack cancer cells more easily. Chimeric antigen receptor (CAR) T-cell therapy is a type of immunotherapy that improves the ability of specific T-cells (white blood cells) to fight cancer. Since its discovery, CAR T-cell therapy has been used to target several different strains of cancer, including mesothelioma. For many patients across a range of cancers, the side effects of CAR T-cell therapy can be as intense as other treatment methods (such as chemotherapy).
Generally, CAR T-cell therapy is administered intravenously in ten minutes or less. With an infusion of new, cancer-fighting blood cells, most bodies respond by releasing large amounts of proteins that can direct the activity of other cells, known as cytokines. The resulting process is called Cytokine Release Syndrome (CRS). CRS causes several parts of the immune system to band together to fight against cancerous cells. Though the effects of this form of treatment can be acute (and even life-threatening), severe side effects generally indicate that the medicine is working as intended and destroying tumors throughout the body.
In addition to feeling like they're fighting a case of a flu-like virus, some patients may begin to feel some psychological effects (such as stupor, difficulty understanding language, and seizures). These effects can be severe but are widely considered treatable.
Common side effects of CAR T-cell Therapy requiring treatment include:
Brain swelling
Confusion
Flu-like symptoms
High fever
Increased risk of infection
Low blood pressure
Seizures
Severe headaches
Know your cancer treatment options.
Download our guide to get the latest information about mesothelioma treatments, clinical trials, complementary and emerging therapies.
Download Guide
Timeline of CAR T-cell Therapy Side Effects
After years of treatment with CAR T-cells, researchers noticed a general side effects timeline. Not all patients experience therapy side effects, and some experience only a few, easily managed symptoms of CRS or CAR T cell-related encephalopathy. Below is a typical timeline for side effects from CAR T-cell therapy.
| | | |
| --- | --- | --- |
| Time After CAR T-cell Therapy | Stage of Recovery | Side Effects |
| 1 to 5 days after therapy | "First Wave" | CRS flu-like symptoms (i.e., fever, chills, weakness) usually appear one to five days after treatment (some patients may experience them weeks later) and last up to two weeks. |
| 1 to 4 weeks after therapy | "Second Wave" | If immunotherapy affects the brain, symptoms may appear one to four weeks after therapy and last between two to four days. |
| 2 weeks to 1 month after therapy | Recovery | Patients begin to recover from the first and second wave of symptoms starting two weeks after treatment. However, some patients' symptoms may last up to one month following therapy. |
How Are Side Effects Treated?
For patients diagnosed with mesothelioma, some common cancer treatment methods (such as radiation and surgery) may not be enough to slow or stop the spread of tumors. Or, patients may not be able to withstand the physical rigors of the side effects of these treatments. Immunotherapy's side effects are often more treatable and less severe for these patients. Too doctors generally have extensive experience treating their related side effects like fever and low blood pressure.
Treatment of side effects, however, is not as simple as prescribing an effective medication. CAR T-cells are known to cause CRS, while the medication works to kill off cancer cells. Treating the symptoms of CRS too early may mean halting the effects of CAR T-cell therapy. As such, following a CAR T-cell therapy infusion, patients typically stay in in-patient care for a week or two so that any potential side effects can be quickly managed. People over the age of 65 are at greater risk of brain damage and may require extended in-patient stays.
For the symptoms of CRS, acetaminophen and IV fluids are commonly prescribed. Other supportive treatments include steroids for patients with encephalopathy (or other CAR T cell-related brain damage). As symptoms post-treatment may be mild before becoming more dangerous, many doctors communicate with patients for a few months after discharge.