University of Texas MD Anderson Cancer Center
The University of Texas MD Anderson Cancer Center is one of the leading cancer treatment centers in the United States. The hospital consistently ranks high in cancer treatment and research. Patients with mesothelioma often travel from all over the country to receive treatment or participate in a clinical study at MD Anderson.
Get Free Mesothelioma Guide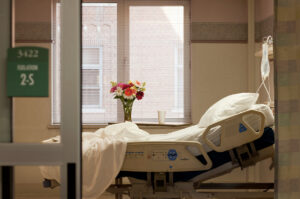 What is MD Anderson Cancer Center Known For?
The University of Texas MD Anderson Cancer Center in Houston, Texas is one of the largest and highest-rated treatment centers in the United States. Since 1941, MD Anderson has focused on treating every kind of cancer, including mesothelioma. No matter the rarity of the disease, experts at MD Anderson likely have experience with it.
MD Anderson is not only one of the top cancer centers in Texas but in the entire United States. The mesothelioma medical center has consistently been recognized for its technology, quality care, and cutting-edge research. Patients have access to new, more effective treatments for diseases like mesothelioma, often before they become standard in the community.
Texas Hospital Locations in Houston
The cancer center operates out of six main hospitals and a few clinics and lab centers throughout the Houston area, including the main one located at the University of Texas. Other hospitals in Arizona, Florida, New Jersey, California, Indiana, and Texas partner with the cancer center through the MD Anderson Cancer Network®. The program urges the hospitals to fully integrate MD Anderson's standards and treatment plans, ensuring each mesothelioma specialist can provide great care. Other hospitals around the country collaborate and have clinical relationships with the cancer center, increasing access to cancer care everywhere.
Patients can visit four of the six main MD Anderson Cancer Center locations for mesothelioma health care, including League City, Sugar Land, Woodlands, and West Houston. Each mesothelioma clinic has experienced staff and technology to treat rare diseases caused by the use of manufactured or imported asbestos products.
League City
2280 Gulf Freeway South
League City, Texas 77573
Sugar Land
1327 Lake Pointe Parkway
Sugar Land, Texas 77478
Woodlands
100 Fellowship Drive
Conroe, Texas 77384
West Houston
13900 Katy Freeway
Houston, Texas 77079
MD Anderson Cancer Center Mesothelioma Treatment Options
Mesothelioma is a form of cancer that affects the lining around your lungs, abdomen, heart, or other organs. It is a rare form of cancer that develops in response to exposure to asbestos. If caught early enough, mesothelioma can be treated with life-extending procedures. Although the treatment plan for most patients focuses on improving lung function and quality of life, many patients end up living years longer than their initial life expectancy. Treatment options for mesothelioma depend on a few factors, including:
Stage of disease
Type of mesothelioma
Location/Site of cancer
Age
General Health
Gender
A mesothelioma treatment plan at MD Anderson Cancer Center typically involves a combination of techniques. Due to mesothelioma metastasis, which is the rapid spread of cancer to other parts of the body, surgery alone won't cure mesothelioma. Patients eligible for surgery undergo chemotherapy first to shrink the tumors, followed by a round or two of radiation therapy after surgery to kill the remaining cancer cells. For patients with stage III or IV pleural and peritoneal mesothelioma, immunotherapy helps improve the quality of life when certain factors prevent surgery eligibility.
Related: Can an Omentectomy Treat Mesothelioma?
Top Surgeons and Specialists at MD Anderson Cancer Center
Mesothelioma can be difficult to diagnose since most doctors don't have experience with mesothelioma. The lack of a strong background in diagnosing and treating asbestos-related diseases often leads to mesothelioma being misdiagnosed as lung cancer. Pleural and peritoneal mesothelioma doctors at MD Anderson have decades of combined experience, so patients often visit for a second opinion.
An accurate diagnosis from the start can help doctors plan the best possible treatment for each patient. Mesothelioma treatment requires the expertise of multiple doctors, specialists, and other medical professionals.  Pathologists at MD Anderson diagnose and treat mesothelioma and its subtypes on a regular basis. A few notable doctors at the Houston-based cancer center include:
Dr. Boris Sepesi, Lead Pleural Mesothelioma Surgeon
Dr. Kanwal Raghav, Medical Oncologist for peritoneal mesothelioma and gastrointestinal cancers
Anderson Hospital Cancer Center Clinical Trials
Each year, MD Anderson conducts hundreds of new clinical trials designed to improve the way we diagnose and treat cancer. Clinical trials can also involve the administration of standard treatments such as chemotherapy, surgery, radiation, or a combination of treatments. If you are a patient there, your doctor may recommend a clinical trial, giving you access to a new treatment method or drug.
MD Anderson Cancer Center offers mesothelioma clinical trials in affiliation with the National Cancer Institute, drug companies, and non-profit organizations. Previous trials at the cancer center have advanced multiple mesothelioma treatments. The search for mesothelioma clinical trials offered at MD Anderson,  the center's search tool for clinical trials gives users the ability to find studies involving specific diseases, drugs, or treatment methods. If you think you might be eligible for a clinical trial at MD Anderson, your doctor can contact the referral team:
Do You Need a Referral to get Treatment?
On average, patients at MD Anderson wait 10 days to be seen by a doctor. You don't need a referral from a doctor to request an appointment at MD Anderson, but they do accept them. Patients can request an appointment by calling one of the patient specialist numbers, 713-792-5410 or 888-543-2435, or online by filing a self-referral form.
With an international airport near MD Anderson Cancer Center, patients can travel from thousands of miles away for treatment. Between airfare and sleeping accommodations, traveling for cancer treatment can add up. Mesothelioma patients can consider alternative ways to pay for cancer treatment, including compensation won from asbestos lawsuits. Cancer treatment in Houston isn't out of reach. Fill out a free case evaluation to see if you qualify.