Mesothelioma Radiologist Specialist
A radiologist is a vital piece of any mesothelioma treatment team as radiologists specialize in using technology used to diagnose and treat diseases and injuries. With a combination of methods, radiologists can aid in the mesothelioma treatment process.
Get Free Mesothelioma Guide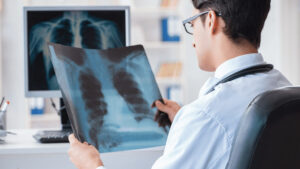 What Is a Radiologist? 
The study of radiology is focused on the science surrounding X-rays using radiation for diagnosis. A radiologist is a doctor who specializes in using radiology technology to diagnose and treat patients' injuries and diseases. By using a combination of X-rays, CT scans, PET scans, MRIs, and more, a radiologist can see if a patient has any abnormalities in their organs, cells, or tissue that may warrant more examination. Although ultrasounds may produce similar images of organs, cells, and tissue in the body, a sonographer performs them rather than a radiologist.
A radiologist's use of imaging scans to diagnose mesothelioma early can play a crucial role in a patient's prognosis. Early symptoms of mesothelioma may come in the form of shortness of breath, chest pain, abdominal pain, excessive sweating, and weight loss, among others. After diagnosis, radiologists can refer mesothelioma patients to the right doctors and treatment.
Can a Radiologist Help With Mesothelioma?
Mesothelioma is a form of cancer that is primarily caused by asbestos inhalation and can appear in the lungs, stomach, and other organs.  A mesothelioma radiologist is a medical professional who specializes in diagnosing and treating diseases using medical imaging and procedures. They can play a major role in the early detection of mesothelioma. By finding cancer early and pinpointing where in the body it's infecting, a radiologist can work alongside a team of oncologists, surgeons, and nurses to create the best treatment plan for you.
There are four areas in which mesothelioma can appear—pleural (lungs), peritoneal (abdomen), pericardial (heart), and testicular.  Using a combination of imaging scans is crucial in the diagnostic process as its technology can provide a starting site for treatment. A CT scan is central to a radiologist's ability to identify mesothelioma in patients because the sliced images produced can see the smallest of pleural thickening, a sign of cancer. Then they can use PET, MRI, and chest X-rays to further gain knowledge of where cancer has spread and how to apply the treatment.
What Exactly Does a Radiologist Do?
A radiologist uses radiation differently to see what is happening inside the body. An X-ray is the most well-known method that a radiology doctor would use for diagnoses. In creating an image, ionized radiation is passed through a part of the body, producing a two-dimensional image where you can see the patient's body part(s) from one angle. This differs from a CT scan or MRI, which can see bones, organs, and soft tissue, and a PET scan which can see the molecular activity inside the body. These scans combine to provide doctors with comprehensive knowledge to diagnose mesothelioma in a patient.
A radiologist's job isn't done after the initial round of imaging to diagnose mesothelioma. The imaging is continued throughout all care to be able to see if treatment is helping, if cancer has spread to another location, or to say what stage of cancer a patient is in. Your radiologist will work with the rest of your cancer team to ensure you get specialized, accurate treatment for your mesothelioma.
Medical Centers Known for Radiology
As the radiology department grows, the span of its knowledge becomes wider and thus creating room for there to be multiple specialties. This benefits the patients because it means they will have doctors with in-depth knowledge in their needed areas of care. Radiology is expanding into being a part of most diagnoses as imaging technology has become more readily available. The research which has allowed this growth expands to technology development, application of new and existing technology, and computer science among others.
H. Lee Moffitt Cancer Center & Research Institute is one of the largest cancer treatment facilities in the US and a leading mesothelioma research and treatment facility. In their radiology department, they focus on diagnostic imaging and interventional radiology. Diagnostic imaging includes using any combination of X-rays, CT scans, PET scans, and MRIs to identify the telltale signs of mesothelioma. Interventional radiology uses minimally invasive technology to both view images of the body and treats conditions without requiring surgery.
Brigham and Women's Hospital is one of the leading medical centers for the treatment of mesothelioma. Their radiology department focuses on the teaching, research, and patient care of radiology. If there was a place to discover a new mesothelioma treatment, BWH would be the place to turn to.
The University of Chicago Medicine Comprehensive Cancer Center has over 200 cancer care specialists that cover a range of research and treatments. Their mesothelioma treatment center is labeled a center of excellence, meaning they have met the highest patient care, research, and education standards. Their over 300 exam rooms contain access to PET, CT, and MRI scanners, which aid in detecting mesothelioma early.
How do Imaging Tests Help a Mesothelioma Diagnosis?
One way of diagnosing mesothelioma is by doing imaging tests before and after diagnosis allowing a radiologist to see what area(s) is infected if it has spread to other organs, and if treatment has been helping. When looking at a chest X-ray, a radiology doctor will look for any abnormal presence of excess fluids, tumors, and other irregularities that otherwise shouldn't be in that location. A CT scan allows for more in-depth visuals of where cancer may be by taking images in slices and examining them closely. Then, a PET scan of a person previously diagnosed with mesothelioma can be used to see if the cancer has spread to lymph nodes or other organs.
A radiologist may use any of the following imaging scans to diagnose and treat a patient:
Computed tomography (CT)
Fluoroscopy
Fusion imaging
Magnetic resonance imaging (MRI)
Mammography
Nuclear medicine imaging
Position emission tomography (PET)
Ultrasound
X-rays
Looking for a Radiologist Specializing in Mesothelioma?
We understand the uncertain feeling you may have with mesothelioma being a rare form of cancer, but we assure you that there is a range of medical center radiologists who can help you find a diagnosis and treatment plan to ultimately regain a feeling of control over your condition. Our resources at the Mesothelioma Hub have the capability to connect you to the top mesothelioma cancer care specialists in your area. If you are uncertain of where to begin to understand your mesothelioma case, take our free case evaluation to get ahold of your options.