Treatment and Research at the International Mesothelioma Program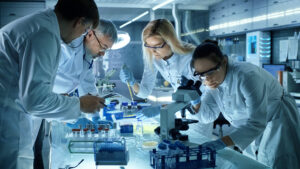 The International Mesothelioma Program at The Brigham and Women's Hospital
The International Mesothelioma Program is a center for mesothelioma research and treatment at the Brigham and Women's Hospital in Boston, Massachusetts. Since 2002, the team of more than 80 caregivers, scientists, and support staff have worked to develop new treatment strategies and improve the quality of life for mesothelioma patients and their families.
As cases of mesothelioma rose in the early 2000s, the largest center for mesothelioma care in the world began pioneering modern mesothelioma treatment through the International Mesothelioma Program (IMP). The program was developed by the late mesothelioma specialist and former chief of thoracic surgery, Dr. David Sugarbaker.
In 1992, Dr. Sugarbaker improved the long-term survival and life expectancy for mesothelioma patients with his redesign of the extrapleural pneumonectomy. The operation, which involves the removal of the affected lung and nearby tissue, is now a standard treatment option for pleural mesothelioma. Over the next two decades, Dr. Sugarbaker successfully treated hundreds of mesothelioma patients before leaving Brigham & Women's Hospital in 2014.
Following Dr. Sugarbaker's departure from the International Mesothelioma Program, Dr. Raphael Bueno took over as chief of the division of thoracic surgery. Dr. Bueno specializes in various cancers, including lung, esophageal, and mesothelioma. Alongside Dr. Bueno is Dr. Abraham Lebenthal, who specializes in mesothelioma and other diseases.
The Program's Approach To Mesothelioma Treatment
With the goal of providing quality life extension for mesothelioma patients, the International Mesothelioma Program provides a full spectrum of specialized care for patients and their families. The program offers personalized care to fit the unique needs of each patient.
IMP offers various options to treat mesothelioma, including multiple treatments. The program continues to make strides in new growth control methods and other biological discoveries. Researchers and medical professionals at IMP constantly search for ways to improve approaches to a mesothelioma diagnosis, treatments, and better outcomes.
International Mesothelioma Program Clinical Trials
Previous and current clinical trials take place at the Brigham and Women's Hospital, with over 150 staffed researchers. IMP clinical trials study possible treatment options for mesothelioma and other cancers. In partnership with the Dana-Farber Cancer Institute, IMP is currently enrolling for various clinical studies, including:
DuRvalumab (MEDI4736) with chemotherapy – Phase 3 Randomized trial
Patients with pleural mesothelioma who are not eligible for surgery as a first-line treatment will receive chemotherapy of cisplatin or carboplatin and pemetrexed. Two-thirds of the participants will randomly be assigned to receive durvalumab, an antibody that blocks PD-L1. Research indicates the treatment can slow tumor growth and shrink tumors. Researchers hope the treatment combination will improve overall survival in mesothelioma patients.
Intravenous Magnesium in Patients Receiving HIOCC
This pilot study will determine the highest dose of magnesium that can be given safely to mesothelioma patients receiving intraoperative chemotherapy with cisplatin and are at risk for acute kidney injury.
NRG-LU006: With or Without Adjuvant Hemithoracic IMPRINT
This trial studies targeted radiation therapy and surgery works for pleural mesothelioma treatment. Researchers anticipate giving targeted radiation therapy in addition to surgery and chemotherapy may work better than surgery and chemotherapy alone.
Last updated on September 26th, 2023 at 10:28 pm