Radiation Oncologist - Mesothelioma Specialists
Radiation oncologists, medical oncologists, and surgical oncologists are the three primary types of cancer treatment specialists. A radiation oncologist specializes in using radiation therapy to destroy cancer cells. A combination of treatments can help patients live longer.
Get Free Mesothelioma Guide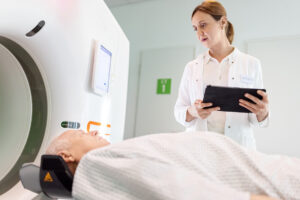 Can a Radiation Oncologist Help with Mesothelioma?
A radiation oncologist oversees the administering of high-energy particles or waves from a machine to destroy the DNA in cancer cells. Radiation oncologists work closely with other doctors to determine if radiation therapy is an appropriate treatment option. Radiation therapy, or external beam radiation therapy, uses high-energy particles or waves from a machine to destroy the DNA in cancer cells. Doctors began using radiation to treat cancer shortly after the discovery of the X-ray in the late-1800s.
Oncologists today often combine radiation therapy with other treatments to alleviate cancer symptoms and help patients survive longer. Radiation therapy is ideal for most mesothelioma patients because it is applied directly to the site without significant pain. Successful radiation therapy results in the destruction or spread of mesothelioma cancer cells.
Radiation Therapy for Mesothelioma
There are two types of radiation therapy for mesothelioma treatment, including external beam radiation therapy and brachytherapy. With the exception of specific clinical trials, mesothelioma patients do not typically undergo brachytherapy.
External Beam Radiation Therapy (EBRT) is a noninvasive therapy applied externally and aimed directly at tumors. EBRT is fast, pointless, and the most effective radiation therapy for mesothelioma. Mesothelioma patients sometimes undergo an advanced form of EBRT, called intensity-modulated radiation therapy. A mesothelioma doctor will likely recommend EBRT instead of brachytherapy.
Brachytherapy is a more invasive radiation therapy involving the application of a radioactive implant in the tumor itself. This form of radiation therapy is typically used to treat breast cancer, cervical cancer, or certain forms of lung cancer.
What Exactly Does a Radiation Oncologist Do?
Radiation oncologists lead a team of highly trained specialists who all work together during the entire treatment process. They often focus on developing and prescribing the best treatment plan for each patient while overseeing the actual administration of treatment. During a round of treatment, a radiation oncologist tracks the progress, treats side effects, and makes necessary adjustments to the plan if needed.
Radiation oncologist education and experience requirements:
4 Years of College
4 Years of Medical School
1 Year of General Medical Training
4 Years of Residency (specialty training in radiation oncology)
Board Certification (not required, but recommended)
Radiation Oncologist vs. Radiologist
Radiologists and radiation oncologists are both doctors, but they serve separate purposes in the medical field. Radiologists interpret imaging scans to diagnose disease, while radiation oncologists treat cancer using radiation therapy and the help of a care team. The use of radiation therapy to treat cancer is widespread. Radiation oncologists use their skills to treat many forms of cancer, including:
Head and neck
Breast cancer
Cervix
Prostate
Eye
Certain types of thyroid cancer
Advanced prostate cancer
Gastroenteropancreatic neuroendocrine tumor (GEP-NET)
Radiation Oncologist Team of Specialists
A radiation oncologist relies on a team of specialists that assist with each step of the radiation treatment process, from calculating the correct dose to administering treatment. This includes everyone from medical physicists who oversee radiation doses and equipment functions to medical dosimetrists who use computers to calculate the dose of radiation needed to destroy the tumor with precision. Some other important specialists who work alongside a radiation oncologist include; Radiation Therapist who administers the radiation treatment under the authorization and supervision of the radiation oncologist. Additionally, radiation therapists maintain patient records and monitor the machines during treatment.
Radiation oncology nurses also work with the treatment team, the patient, and their families throughout the entire process to educate, assess, and assist as needed. Nurses also ensure patients access available support services. Other related medical specialists who may work with a patient during their radiation therapy include dietitians, social workers, physical therapists, and dentists.
Medical Centers Known for Radiation Oncology
Certain medical centers across the United States rank among the best hospitals for cancer treatment. These medical centers provide radiation treatment and are recognized for their high-quality cancer care, comprehensive treatment options, and research.
Find a radiation oncologist near you, or choose from one of the best hospitals for radiation oncology below:
Mayo Clinic
MD Anderson Cancer Center
Memorial Sloan Kettering Cancer Center
John Hopkins Medicine
Mesothelioma Medical Centers with Radiation Oncologists
Mesothelioma medical centers are health institutions that provide specialized treatment options for mesothelioma, a form of cancer caused by asbestos. Patients often prefer to visit a mesothelioma medical center to receive the most advanced treatments, get a second opinion, or enroll in a clinical trial. Experienced specialists, including radiation oncologists staff mesothelioma programs.
Best mesothelioma medical centers for radiation therapy:
Financial Assistance For Cancer Treatment After Radiation
Health insurance typically covers the cost of radiation therapy, which can run between $10,000-$50,000 depending on the number of treatments needed. Patients who receive therapy from a radiation oncologist may pay a few out-of-pocket expenses, including doctor visits, lab work, and prescription drugs.
Treatment-related costs for mesothelioma can add up quickly, but there are a few ways to obtain financial assistance for cancer treatment, medications, and related expenses. Mesothelioma patients may have legal rights to compensation if they have a history of exposure to asbestos. Reach out to one of our experienced patient advocates if you feel intimidated and are unsure where to start.