What Is a Mesothelioma Thoracic Surgeon?
Thoracic surgeons are doctors that specialize in operating on organs and tissue inside the chest. Mesothelioma thoracic surgeons perform various surgeries to treat the disease, including tumor removal and palliative surgery to improve the quality of life.
Get Free Mesothelioma Guide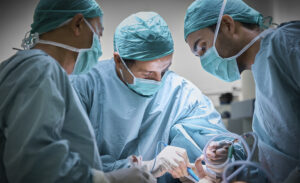 What Is Thoracic Surgery?
Thoracic surgeons operate on organs in the chest (thoracic, pronounced thr-a-suhk) cavity. Thoracic surgery treats diseases related to the lungs, heart, and other important organs. A thoracic surgeon can perform surgeries for mesothelioma treatment include biopsies, tumor removal, and palliative surgery.
The thoracic cavity contains key organs that help the respiratory, nervous, and cardiovascular systems function. These organs include the lungs, bronchi, trachea, pleura, heart, and nerves. The thoracic cavity is the second largest hollow space of the body and is enclosed by the ribs, vertebral column, and sternum.
How Do I Find a Mesothelioma Thoracic Surgeon Near Me?
If you are looking for a thoracic specialist or thoracic doctor near you, top thoracic surgeons specializing in mesothelioma can be found at treatment centers across the United States. The Department of Veterans Affairs (VA) also has multiple medical center locations that employ experienced thoracic surgeons so veterans can receive life-extending treatments.
Types of Thoracic Cancers
Various diseases and malignancies can affect the organs and tissues of the chest cavity. Lung cancer is the most common type of cancer that begins in the thoracic cavity. Other rare types of disease can also occur. Lung cancer is a type of cancer that affects one or both lungs. There are different types of lung cancer, including non-small cell lung cancer and small cell lung cancer. Additionally, a patient may see a thoracic surgeon for lung nodule biopsies to be sent to the lab for cancer testing.
Due to the capacity of the thoracic cavity, many types of cancers and diseases can occur. While lung cancer makes up a majority of thoracic cancers, patients can develop these diseases and malignancies in the chest cavity:
Chronic obstructive pulmonary disease (COPD)

Cystic fibrosis (CF)

Emphysema

Esophageal cancer

Mediastinal mass

Pericardial effusions

Pleural effusions

Pneumothorax

Pulmonary embolism

Pulmonary fibrosis

Respiratory distress syndrome

Respiratory failure

Thoracic outlet syndrome

Tracheal disease
Can a Thoracic Surgeon Help with Mesothelioma?
Thoracic doctors can help with mesothelioma treatment and improve symptoms by performing various surgeries and procedures. Pleural mesothelioma begins in the lining of the lungs and thoracic cavity. Although the disease advances fast, mesothelioma is not always fatal within a year after a diagnosis. With the help of thoracic surgeons, life-extending procedures help patients live longer.
Overwhelmed by your mesothelioma diagnosis? Download our free guide to learn more about the disease.
Download Guide
What Does a Thoracic Surgeon Do?
When your doctor starts discussing treatment options, they may refer you to a thoracic specialist. You may think, "what is a thoracic specialist, and what does a thoracic specialist do?" A thoracic specialist, or thoracic surgeon, is a doctor that treats diseases and malignancies of the chest cavity with surgery. Mesothelioma patients benefit from a thoracic surgeon if they need surgery to remove a tumor or relieve pressure around the lungs.
Alternative Options for Thoracic Surgery
Most pleural mesothelioma patients consult with a thoracic surgeon prior to establishing a treatment plan. Although thoracic surgeons save lives, not all mesothelioma patients qualify for surgery to remove tumors. Advanced cancer and poor overall health are indicators of a patient whose quality of life won't' improve with surgery. Asking about alternative treatment options is one of the most important things to ask your mesothelioma doctor.
There are various non-invasive therapies to improve mesothelioma symptoms. Your oncologist, for example, may refer you to a Pulmonologist for breathing issues. Surgical procedures such as thoracentesis to drain fluid buildup help improve breathing. Depending on the case, a patient may need a less invasive procedure, such as oxygen therapy.
Notable Mesothelioma Thoracic Surgeons
Anne Tsao, MD, Texas
Dr. Anne Tsao is the director of the thoracic center at the MD Anderson Cancer Center. While working at one of the top mesothelioma medical centers in the world, Dr. Tsao manages a team of clinical staff and thoracic experts in her pursuit to treat her mesothelioma patients.
Raja Flores, MD, New York
Dr. Raja Flores is a top thoracic surgeon who serves as Chief of Thoracic Surgery at the Mount Sinai Medical Center. Throughout his 30-year career, Dr. Flores has participated in numerous major studies and even helped pioneer the use of intraoperative chemotherapy for mesothelioma.
Robert Cameron, MD, California
Dr. Robert Cameron is a thoracic surgeon and the Director of Thoracic Oncology at the UCLA medical center. As a leading expert in pleural mesothelioma treatment for over 20 years, Dr. Cameron helped innovate the lung-sparing pleurectomy/Decortication surgical procedure. His efforts have helped treat hundreds of mesothelioma patients.
Marcel DaSilva, MD, Florida
Dr. Marcelo DaSilva is the Medical Director of Thoracic Surgery at AdventHealth Orlando. As an experienced thoracic surgeon, Dr. DaSilva began treating mesothelioma patients long before joining AdventHealth. He successfully treats pleural mesothelioma patients using various procedures, including pleurectomy/Decortication, extrapleural pneumonectomy, and Cytoreductive surgery with HIPEC.
Raphael Bueno, MD, Massachusetts
Dr. Raphael Bueno is the Chief of Thoracic and Cardiac Surgery at the Brigham and Women's Hospital in Massachusetts. Dr. Bueno's clinical interests range from mesothelioma and lung cancer to esophageal cancer and tracheal disorders. As an expert thoracic surgeon, Dr. Bueno enjoys researching new treatment therapies for mesothelioma and lung cancer patients.
How We Can Help You Find a Thoracic Surgeon
Find the right thoracic specialist by following a few helpful tips. Although successful treatment requires the expertise of a multidisciplinary team of mesothelioma specialists, a thoracic specialist should be familiar with all areas of mesothelioma treatment. Top thoracic surgeons who work at high-rated mesothelioma medical centers have access to more resources and modern treatment options. Some treatments used today were developed by thoracic surgeons at top mesothelioma hospitals.
Patients without access to a mesothelioma medical center can still receive quality care from a thoracic surgeon with experience in mesothelioma treatment. With fewer than 4,000 new cases of mesothelioma each year, finding a mesothelioma doctor with experience is important. In most cases, an oncologist can provide references to thoracic surgeons with experience in treating mesothelioma.