New Mesothelioma Treatment Uses Electric Fields to Fight Tumors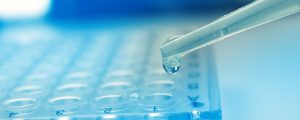 The latest treatment for mesothelioma patients combines the power of electric currents with platinum-based chemotherapy drugs.
New Treatment Technology Disrupts Cancer Cell Division
Patients have a new weapon in the fight against pleural mesothelioma: Novocure's TTF-100L™ System. Last month, the Food and Drug Administration (FDA) approved the global oncology company's "Tumor Treating Fields" (TTF) technology for use on unresectable, or inoperable, pleural mesothelioma tumors.
TTF therapy places the power of electric fields in the upper torso, targeting solid pleural mesothelioma tumors. When tuned to a specific frequency, these currents disrupt cancer cells, preventing cell division.
In clinical trials, NovoTTF-100L™ showed the most success when combined with first-line platinum-chemotherapy drugs pemetrexed (ALIMTA™), and cisplatin or carboplatin.
Tumor Treating Fields: How NovoTTF-100L™ Works
TTF technology is relatively new but has already shown promise in treating more aggressive cancers. The FDA first approved a Tumor Treating Fields device, called Optune™, in 2011 as a treatment option for glioblastoma, an aggressive form of brain cancer.
In pleural mesothelioma patients, the portable device is placed on the upper torso and worn continuously. It delivers alternating electric fields, which interact with dividing tumor cells, according to Uri Weinberg, Novocure's Vice President of Clinical Development.
"Tumor Treating Fields specifically target and directly disrupt dividing tumor cells, inhibiting tumor growth and possibly causing affected cancer cells to die while sparing normal, healthy cells," Weinberg told Mesothelioma Hub.
Related: Drug Factory Show Signs That Implants Treat Mesothelioma Tumors
FDA Gives Approval Following STELLAR Clinical Trial
The FDA's approval comes eight months after Novocure announced the results of its phase 2 STELLAR clinical trial. The study was designed to test the efficacy and safety of the device and included 80 patients with untreated and unresectable malignant pleural mesothelioma who were also undergoing chemotherapy treatment with pemetrexed and carboplatin or cisplatin.
STELLAR Results
Median overall survival for patients treated with chemotherapy and NovoTTF-100L™ was 18.2 months. Mesothelioma cell types played a role; patients with the epithelioid cell type survived 21.2 months, nearly nine months longer than those with sarcomatoid or biphasic types, who lived an average of 12.1 months.
A staggering 97 percent of patients saw some form of clinical benefit from the treatment, which included a partial response, or stabilized the progression of their mesothelioma.
Approximately 62 percent of study participants who received the combination therapy survived at least one year. According to researchers, there weren't any toxic side effects, with most patients only reporting mild-to-moderate skin irritation.
"To see results, where more than half of the patients enrolled in the STELLAR trial who used NovoTTF-100L™ with platinum-based chemotherapy, were still alive at one year is truly gratifying," Weinberg says.
Setting a New Treatment Standard
Malignant pleural mesothelioma is the result of asbestos exposure, but is a rare disease, with only 3,300 cases diagnosed each year in the United States. In a majority of cases, the tumors are unresectable, or inoperable. Only 10 to 20 percent of those patients are eligible for surgery.
"The FDA approval of NovoTTF-100L™ is another piece of proof supporting the potential of Tumor Treating Fields, as this marks the third indication for this innovative treatment," Weinberg says. "Having successfully moved from indications in the brain to our first in the torso demonstrates our commitment to commercializing this platform technology to help as many solid tumor cancer patients as possible."
The FDA's approval of NovoTTF-100L™ plus chemotherapy marks the first new treatment in 15 years. The agency added pemetrexed as a first-line therapy option in 2004.
Last updated on May 1st, 2023 at 06:41 pm