Dealing with Mesothelioma During The Holidays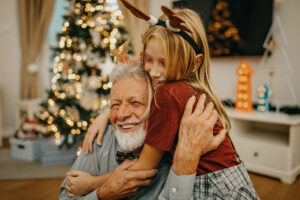 Coping With a Mesothelioma Diagnosis During The Holidays
The holidays bring families and loved ones together for food, gifts, and spreading cheer. For some, the holidays can be a difficult time especially those dealing with an illness and spending the holidays alone. Mesothelioma patients and their loved ones face certain challenges that can intensify this time of the year. It's difficult to spread cheer with cancer-related concerns in mind. Learning methods to cope with mesothelioma during the holidays can help patients and their loved ones enjoy the season.
Any cancer diagnosis,including mesothelioma, is extremely difficult to deal with. Stress, dark thoughts, and a weak physical ability make it hard to cope, especially around the holidays. Mesothelioma patients can experience emotions similar to grief, including denial, anger, bargaining, and depression.
How to Deal with Mesothelioma During the Holidays
Mesothelioma patients can learn coping skills to help offset negative emotions associated with a cancer diagnosis. Patients can reduce sadness and other emotions through low-stress activities, including stretching, meditation, physical exercise, and breathing techniques. Moving your body can help reduce symptoms and improve overall well-being.
Take Advantage of Technology and Social Media
Spending time with family is a form of stress relief for some, but mesothelioma patients may be reminded of their condition as your diagnosis can often be brought up in conversation. It can be difficult to try to enjoy time with family and friends while in discomfort from cancer and its treatment.
Consider taking advantage of virtual technology, such as video calls, from the comfort of your own home if you are dealing with mesothelioma during the holidays. Lots of social media applications also have video messaging features that you can utilize. Staying home also allows mesothelioma patients to limit traveling, which can be extremely difficult to do while recovering from treatment, especially with COVID-19.
Maintain a Consistent and Healthy Diet
Holidays are not holidays without food, but having mesothelioma or asbestosis changes the way you can eat and your diet as a whole. Treatment for mesothelioma can cause side effects the could change your eating habits, including nausea, taste changes, and lack of appetite. Enjoy your favorite holiday foods in moderation, and do not avoid foods that improve your health. You may find it helpful to request a dish or two that you'll be able to eat.
Reach Out For Emotional and Physical Health
Family, caregivers, and friends all want to help you if you need it. Mesothelioma during the holidays is draining, and cooking, decorating, or shopping can be hard while going through treatments such as chemotherapy or surgery. Reach out for help from a loved one to relieve some of the burdens. Just being around loved ones can help you relax. Also not being afraid to reach out to your primary physician or specialist is also key in maintaining positivity.
Taking Care of a Loved One During the Holidays
Taking care of a person with cancer can be emotionally and physically draining. The holidays can make things more complicated with higher stress levels leading up to family time. It's important to consider your mental health and physical health during the holiday season. It's also important to acknowledge and compliment caregivers around you that have assisted in your mesothelioma journey.
If you are a mesothelioma caregiver dealing with mesothelioma during the holidays, don't be afraid to ask for support or help from friends and extended family members. You may need to ask someone else to host or bring food to help take the stress off of juggling responsibilities.
Caregivers can learn coping strategies to manage stress and emotions. First, caregivers should be self-aware of their needs mentally and physically by paying attention to their responses in various situations. So many responsibilities can contribute to someone ignoring their feelings, leading to a lash-out. Before reacting to a situation, stop and think about your current emotions so you can react in a healthy way.
Other ways to help you cope with a difficult situation include breathing deeply, relaxing your muscles, and keeping your senses grounded. If you begin to feel overwhelmed during the holidays, relax, breathe, and find your senses through visuals, sounds, smells, and tastes.
Additional resources are available to caregivers during the holidays, including support groups or seeing a mental health professional. Mesothelioma patients and their loved ones can find assistance to help offset the loss of income and other financial setbacks of cancer through legal compensation.