Gemzar (Gemcitabine)
Gemzar (Gemcitabine) is a chemotherapy drug that stops cancer tumors like mesothelioma from spreading and growing to other parts of the body.
Get Free Mesothelioma Guide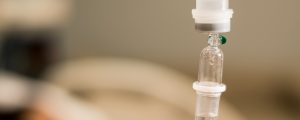 Is Gemzar an Immunotherapy?
Also known by gemcitabine, this medication is a type of chemotherapy doctors can administer to cancer patients. This drug can treat a variety of cancers, such as mesothelioma, where tumors affect the lining of the lungs, abdomen, or heart. However, Gemzar is only used to treat the type where tumors affect the lining of the lungs, primarily known as pleural mesothelioma. It can be used alone or in combination with other types of cancer treatments, such as surgery or targeted therapy.
How Gemzar Works
One of the primary functions of Gemzar is its ability to destroy quickly dividing cells, such as cancerous ones, since unhealthy tumors tend to divide uncontrollably. A medical professional will administer the drug intravenously (through the vein) in 30-minute increments. A nurse puts a small tube into one of your veins and connects the drip.
Treatments are generally once a week for about 2 or 3 weeks before going a week or two without treatment to allow the body time to recover. Depending on your stage of mesothelioma, the number of times you'll need to come back for treatment will vary. Only your doctor can give you the exact details of your cancer treatment plan since every patient's situation is different.