Indiana Occupational Asbestos Cancer
The state of Indiana ranks in the top 50 percent of states with the highest amount of asbestos-related deaths. For decades, Indiana's economy relied on blue-collar work, such as automobile production and steel production. Multiple industries throughout the state exposed workers to asbestos.
Get Free Mesothelioma Guide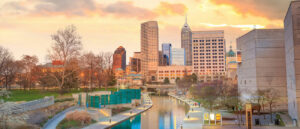 Asbestos In Indiana
Before the 1980s, many Indiana workers and their families were exposed to asbestos, putting them at risk of developing illnesses like mesothelioma or lung cancer. Asbestos is a fibrous mineral that can cause cancer if inhaled or ingested. For decades, industries across Indiana relied on the carcinogen to use as protection or in their products.
The associated risks of exposure is high among industrial workers who worked with automobiles, chemical products, coal, electrical equipment, petroleum, rubber, and steel. The risk is also higher among maintenance employees who worked in manufacturing plants and steel mills.
Indiana job sites with known exposure include:
Chemtron Corporation
Countrymark Cooperative LLP
Dow AgroSciences
Federal Office Building in Evansville
Fort Wayne Electric Works
Frankfort Power House
General Motors
General Services Administration depot in Fort Wayne
George Rogers Clark National Park
Nuturn Corporation
Peerless Pump
R. J. Oil & Refinery Company
Raybestos Friction Materials Company
Rolls Royce
Warrick Generating Station in Yankeetown
Winmar Oil Company
Hospitals
Hospitals built before 1980 commonly used asbestos as part of the building process. Different equipment throughout hospitals, like insulation, pipes, and water tanks, may contain the toxin. Protestant Deaconess Hospital, St. Elizabeth Hospital, and St. Joseph's Hospital in South Bend make up some of the Indiana hospitals known to contain asbestos.
U.S. Steel
Lake County typically has the highest rate in the state for asbestos-related diseases. Gary and other surrounding cities located in Lake County are known for their thriving steel mill industry. Steel production has a significant association with asbestos insulation, as much of the production process requires heat and fire protection.
United States Steel Corporation (U.S. Steel) is one of the country's major steel producers. The company manufactures steel for a variety of products and industries, such as automotive, appliances, industrial machinery, and more. Gary Works is U.S. Steel's largest manufacturing plant and comprises of both steelmaking and finishing facilities. Gary Works and other steel mills, like Bethlehem Steel, exposed steelworkers to asbestos on the job.
Nuturn Corporation
Nuturn Corporation is a brake manufacturing plant located in New Castle, Indiana. Since the early 1900s, its parent company – Maremont Corporation – has manufactured and supplied aftermarket automotive parts for the entire country.
Nuturn Corporation contained the toxin in its buildings and used it to manufacture brakes. Automobile components lined with asbestos and produced by Nuturn include brake linings, disc pads, clutch facings, and mufflers.
In 1984, a survey conducted by the Occupational Safety and Health Administration (OSHA) detected hazardous concentrations of asbestos. The survey, which was requested by a union representative, sampled environmental breathing zone conditions and found levels of contamination significantly exceeded the allowable amount.
Pulmonary function tests and chest X-rays were done on 170 workers to test for the detection of asbestos. Over a third of those workers tested positive for asbestos in their body, and 21 workers had abnormal pulmonary function test results.
The brake manufacturing site closed its doors in the 1970s after several asbestos-related problems.

Asbestos causes latent mesothelioma. Think you were exposed? Request a case evaluation to pinpoint the cause and who's responsible.
Evaluate My Case
Jeffersonville Boat & Machine Company
Jeffersonville Boat & Machine Company (Jeffboat) opened in 1834 as Howard Shipyards and is now the largest inland shipbuilder in the United States. Jeffboat is most well-known for building barges and steamboats for both civilian and military use.
The U.S. Navy bought the company just before World War II, where it got its new name. As a shipyard operated by the military, the company built landing ship tanks and submarine chasers. After the war, it started building larger vessels and custom watercraft.
Workers built asbestos into both commercial and naval ships, inside pipes, motors, flooring, and walls. Boiler, engine, and weapon storage rooms required even more asbestos insulation than other parts of the ship. Poor ventilation in ships meant service members and civilians were likely exposed. Roughly one-third of all mesothelioma patients served in the military.
EPA In Indiana
The United States Environmental Protection Agency (EPA) oversees most states on environmental regulations. However, the EPA only conducted about 13 percent of all asbestos compliance inspections across the country from 2011 to 2015. States only conduct about 87 percent of their own compliance inspections, which means regulators in Indiana not conducting the proper amount of asbestos inspections.
Areas throughout the state may still contain asbestos inside schools, homes, and workplaces. States like Indiana often put their funding towards other EPA regulations, like toxic chemicals or lead cleanup.
Were You Exposed?
If you are a resident of Indiana and worked in an environment where asbestos was present, talk to your doctor about your potential risks. To learn more about mesothelioma or the use of asbestos, request our free mesothelioma guide.