Asbestos Exposure and Cancer at East Carolina University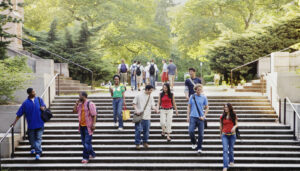 Asbestos Suspected in Cause of East Carolina University Cancer Deaths
Since 2011, five professors from a single building on East Carolina University's campus died from an uncommon and aggressive type of cancer. In the Brewster Building, faculty suspect contamination in the air and water is the cause of a total of eight reported pancreatic cancer deaths. Although the university conducted air and water quality tests in the past, local news stations revealed that asbestos wasn't among the samples collected.
Now, faculty members like Dr. Karin Zipf, an ECU history professor, are asking the university to investigate the potential cancer cluster. In 2019, Zipf lost a close friend and colleague who worked in Brewster to pancreatic cancer. At the time, professors knew of three other colleagues' deaths from the same, uncommon disease.
"We in Brewster are having to face yet a second health crisis. While everyone else and we are dealing with COVID, we're also dealing with this pancreatic cancer issue." – Zipf
In the U.S., pancreatic cancer makes up about three percent of all cancers. Moreover, as the number of pancreatic cancer deaths increases each year, it causes seven percent of cancer-related deaths.
Asbestos Contamination in Campus Buildings
The Brewster building is a classroom and office building. Those who worked on campus say other buildings have been renovated. However, the Brewster Building and the A-Wing(the reported location of the cancer cluster) haven't undergone renovations.
Furthermore, asbestos is present in the building, according to staff. The extent of the asbestos contamination – and if it's affecting the health of professors – is yet unknown.
"Faculty in this building are very concerned about the severe illnesses that have happened here," said Zipf.
For 20 years, Zipf has worked in the Brewster building in Greenville, North Carolina. Since 2018, four pancreatic cancer deaths have occurred among educators from the campus building. The most recent death occurred in July 2021.
Asbestos contamination is known to cause cancer in humans after a long latency period. While research has yet to definitively link the toxic mineral to pancreatic cancer, it has been associated with a range of cancers like:
Colon cancer
Lung cancer
Pleural mesothelioma
Peritoneal mesothelioma
Stomach cancer
Testicular mesothelioma
Throat cancer
Signs of Asbestos Cancer
Generally, people with poisoning from asbestos do not show symptoms for years (or even decades). In most cases, workers inhale asbestos dust through their noses or mouth. Sometimes, people swallow tiny asbestos particles in contaminated water.
Next, because the particles are so small, the toxin travels deep into the body. Too, asbestos particles are barb-like and cannot be removed once they become stuck in organ tissues. Over time, asbestos causes inflammation and cellular changes that often lead to cancer.
Typically, the signs of asbestos cancer depend on the location of the growing, malignant tumors. Below, symptoms of asbestos-related diseases may include:
A cough that won't go away and gets worse over time
Coughing up blood from the lungs
Fatigue
Pain or tightening in the chest
Loss of appetite
Shortness of breath, wheezing, or hoarseness
Swelling of the neck or face
Trouble swallowing food or drinking
Weight loss
Last updated on January 24th, 2023 at 03:59 pm