Mesothelioma Patients and Hospice Care
For patients who are unlikely to be cured through treatment, hospice care offers relief from painful cancer symptoms as well as ongoing support to patients and their loved ones. While palliative care is one aspect of hospice, this form of cancer care aims to improve the overall quality of life. Typically, patients are referred to hospice care if they have a life expectancy of six months or less. Private insurance, Medicaid, Medicare, and VA benefits may be used to pay for hospice care, if eligible.
Get Free Mesothelioma Guide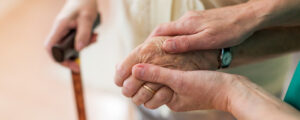 What Is Hospice Care?
Hospice care is a type of health care provided to patients in the final stages of life. After receiving treatment for an aggressive cancer like mesothelioma, many patients choose to forego further rigorous therapies and opt to focus on improving their quality of life. Hospice care focuses on accepting death and helping patients and families prepare for end-of-life decisions.
The goals of hospice for mesothelioma patients are to alleviate as many painful symptoms as possible while managing the mental, emotional, social, and spiritual problems associated dying. Hospice workers are trained to handle these situations and support patients and their families by providing a continuous sense of dignity throughout care.
However, hospice care or end-of-life care, does not mean that a patient has given up hope on living. Instead, it means he or she has decided to concentrate on the value of their remaining time.
What Services Are Included in Hospice Care?
Generally, hospice professionals include nurses, nursing assistants, social workers, counselors, some doctors, spiritual advisors, and/or volunteers. Services provided by medical specialists include:
Art or music therapy
Chaplains and spiritual support
Counseling and grief therapy
Home care equipment (such as hospital beds or oxygen)
Home health aides
In-home nurse visits
Massagehttps://jamanetwork.com/journals/jamaoncology/fullarticle/2768634
Medication to treat symptoms
Nutrition therapy
Physical therapy
Short-term inpatient care
Social work
Volunteers to help caregivers
Depending on the location of your hospice therapy (such as, in your home or at an in-patient facility), you may be given round-the-clock, 24-7 care or visited by a member of the hospice team on a regular, as-needed basis.
When Should Patients Begin Hospice Care?
Malignant tumors are cancerous and have cells that spread rapidly to different sites of the body. When a person's cancer has progressed past the ability of current therapies to cure or control malignant tumors, your doctor may recommend hospice care. An individual and their family can choose to end treatment at any time and enter hospice. Likewise, patients may leave hospice at any time to resume active cancer treatment.
Yet, most major insurance plans (including Medicare and Medicaid) require a letter from a doctor stating a patient is likely to pass in six months or less. Subsequently, many people believe that you must wait until that time to enter hospice. However, studies show that entering hospice sooner gives patients more quality time remaining to spend with loved ones and also to process their grief.
Are Hospice Care and Palliative Care the Same?
While palliative care (i.e., treatment with the goal of alleviating painful symptoms) is one aspect of hospice care, hospice includes an array of other therapies. In addition to palliative care, hospice may include spiritual guidance, legal advisement, mental health support, and more.
Palliative care can be used at any time during normal treatment for cancer, whereas hospice is the last step of cancer treatment. Also, curative treatments like chemotherapy and immunotherapy do not continue during hospice.
Patients may receive either (or both) palliative and hospice care for as long as they are eligible through their insurance and okayed by a doctor.
Who Can Receive Hospice Care?
Anyone in the final stages of treatment for a terminal illness is potentially eligible to enter hospice care. First, your healthcare provider must believe there are fewer than 6 months remaining in your prognosis. Then, your doctor may suggest hospice (along with a formal letter to provide to your insurance plan). Most health insurance providers (including Medicare and Medicaid) require this letter to verify your doctor's prescribed health plan.
As your treatment shifts from attempting to control or cure tumors and mesotheliomas to relieving pain, you may regain the freedom to focus on aspects of your life outside of cancer treatment. This is the primary aim of all end-of-lifecare.
FAQ About Hospice Care
How often will I receive hospice care? The frequency of visits from your hospice team will depend on your specific health needs. Some patients require oxygen and intravenously delivered pain medication (like morphine through an IV) to manage symptoms, while others may get by with prescription medication.
If my cancer gets better, can I leave hospice and go back to normal treatment? Yes. Though unlikely, if your condition improves, your doctor may suggest returning to curative forms of treatment. You can also decide to leave end-of-life care at any time and resume traditional cancer therapies.
Where can I enter hospice care? Typically, hospice services are available at assisted living facilities, nursing homes, hospice facilities, hospitals, and even in your own home.
How do I pay for hospice services? Private insurance health plans may be used to pay for services, depending on your plan. Also, for those who are eligible, VA medical benefits, Medicare, and Medicaid may be used to pay for hospice care.
Can I still go to cancer-curing treatments during hospice? No. Entering hospice care means that only symptom relief treatments will be provided – in terms of medical care. Other elements of hospice include treatment for psychological, emotional, legal, and financial stresses.
Know your cancer treatment options.
Download our guide to get the latest information about mesothelioma treatments, clinical trials, complementary and emerging therapies.
Download Guide
Resources
The organizations below can provide patients and their families who are considering hospice care with more information as well as support.