Questions to Ask Your Mesothelioma Doctor
Understanding a mesothelioma diagnosis, all of your treatment options, and the road to recovery afterward can be overwhelming and confusing. Patients need to be able to reference information on their diagnosis, prognosis, treatment, and veterans' resources to manage their health as well as other aspects of life. The list of questions below can offer a guideline on what to ask your doctor to help you stay on track.
Get Free Mesothelioma Guide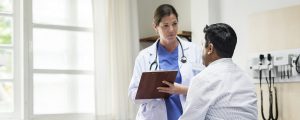 Top Questions to Ask Your Doctor About Mesothelioma
If you've received a mesothelioma diagnosis from an oncologist, odds are this was a traumatic and intimidating time for you and your family. Sometimes when this happens, a person can find it challenging to get their thoughts in order efficiently to ask the right questions and get the resources they need. What are the best steps to find a qualified medical center and how do you get there? Fortunately, there are resources available to aid and support patients during these times.
After you've been diagnosed with mesothelioma, having an in-depth talk with your doctor about what comes next is vital. They'll be able to clarify any questions you may have on the diagnosis, support, and treatment. To help this process along, we've compiled a list of essential questions you may want to ask during doctor visits.
Video Transcript
"I think the message is two things: one, there is still a nihilistic attitude towards mesothelioma. If you don't go to a place where people are dealing with mesothelioma, you're going to be told you have no treatment options. They have to look and search, unfortunately, for information. So I say to patients don't give up until you find more information. It's not unusual for me to come across patients who have been told nothing can be done."
Wickii Vigneswaran, MD, MBA, FACS | Thoracic Surgeon | Loyola University Medical Center
Mesothelioma Diagnosis Questions
After you've received the diagnosis, there's still more for you to learn about your specific condition. Just in case there's any confusion on where to begin, asking the following questions will ensure you have a solid base of knowledge in regard to your unique situation.
What type of mesothelioma do I have?
What stage is my cancer?
How will that affect my prognosis?
How does cell type affect me or my treatment plan?
What is my life expectancy?
How will this diagnosis affect my daily life?
What are the symptoms of mesothelioma?
Can Mesothelioma be misdiagnosed?
Can I improve my prognosis?
What mesothelioma resources do you recommend for research?
Overwhelmed by your mesothelioma diagnosis or treatment? Download our free guide to learn more about the disease.
Download Guide
Mesothelioma Treatment Questions
Your cancer specialists will put together a treatment plan based on several health factors. Overall general health, cell type and stage of the disease all have a significant impact on what your doctor may recommend. Clear up any questions or doubts you may have by inquiring the following and having a conversation about it with your mesothelioma specialist.
What is your experience treating the type of mesothelioma I have?
What are my treatment options?
What are the success rates for cases like mine?
What are the risks associated with the various treatment options?
How effective are the different types of treatments you've recommended?
How soon do I need to start treatment?
How long will it last?
Where can I go to receive the best treatment?
Will I have to travel to get it?
How many and what kind of doctors do I need?
Who is my main point of contact?
How should I begin preparing for treatment?
Am I eligible for surgery, and what if I'm not?
Should I consider complementary treatment?
What are some alternative treatments?
Can I combine treatments and alternative therapies?
What if chemotherapy, radiation, and immunotherapy aren't options?
How do I find out about clinical trials and my eligibility?
How do I stay up to date on relevant (experimental) treatment options?
What mesothelioma related medications will I need to take?
What are their side effects?
Is palliative care available to alleviate these side effects?
How do I monitor my condition?
How will I know if I'm getting better or worse?
There are treatment options for all patients. It's important to keep searching until you find the right doctor, medication or treatment plan.
Veteran Concerns Related to Mesothelioma
Are you a veteran that's been diagnosed with mesothelioma? There are a few concerns that will differ in this situation. Here are some questions for veteran patients to consider.
Why are veterans more likely to be diagnosed with mesothelioma?
Should I seek treatment through the VA?
Will my medical bills be covered by the government?
A mesothelioma diagnosis is a difficult time for the patient and their family members that's usually full of questions and concerns. Make sure to have several conversations with your doctor regarding any issues you may have, and don't hold back. If you still have doubt after these talks with your oncologist, you can always get a second opinion.