Mitomycin for Mesothelioma Treatment
Mitomycin is an antibiotic drug commonly used with chemotherapy to treat mesothelioma, lung cancer, and cervical cancer. The antibiotic medication is only used to treat cancer and works by slowing the growth of malignant cells.
Get Free Mesothelioma Guide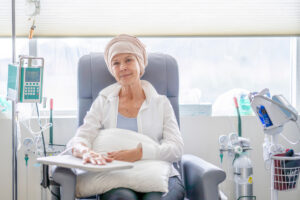 What Is Mitomycin Used For?
Mitomycin is a form of antibiotic used with chemotherapy to treat cancer. Patients receive this when cancer has spread to other parts of the body, or other treatments are ineffective. The drug is clinically proven to stop the growth of certain cancer cells in the body. The FDA, however, has not approved mitomycin to treat mesothelioma.
Because of its aggressive nature, the FDA does not recommend mitomycin as a single-agent or replacement for surgery and/or radiation therapy. Instead, oncologists use mitomycin to treat cancer patients in combination with other chemotherapy medications. The drug is approved to treat symptoms of gastric and pancreatic cancers but is studied on various forms of cancer, including:
Anal cancer
Bladder cancer
Cervical cancer
Cholangiocarcinoma
Esophageal cancer
Head and neck cancer
Mesothelioma
Non-small cell lung cancer
Mutamycin® Brand Name
Mutamycin is a brand name for mitomycin. The drug is manufactured by Accord BioPharma Inc, a pharmaceutical company founded in 2014. The FDA approved Mutamycin in 2017.
Mitosol® Brand Name
Mitosol is a brand name for mitomycin. The drug is manufactured by Mobius Therapeutics, LLC, founded in 2006. The FDA approved Mitosol in 2012 to use during eye surgery to prevent tissue from closing too soon.
A mesothelioma diagnosis is life-altering news. Request your free Mesothelioma Guide and take all the information we have to offer with you, where ever you go.
How Mitomycin Works
Mitomycin is an alkylating, anti-tumor antibiotic agent that prevents the ability of cancer cells to multiply. The drug inhibits mitosis and protein synthesis, which the body does to produce new cells by breaking DNA strands and stopping DNA replication.
Doctors often use the medication during surgery because of its ability to slow the healing process, allowing for more efficient procedures. During the injection phase doctors combine a sterile dry mixture of mitomycin and mannitol with sterile water and administer the solution by intravenous (IV) infusion. The dosage depends on medical condition, body size, and the body's response to treatment.
Is Mitomycin a Chemotherapy?
Mitomycin has been used in combination with chemotherapy drugs for mesothelioma treatment. Common combination drugs for mesothelioma include cisplatin and pemetrexed. One study used the combination of mitomycin, cisplatin, and other drugs to stimulate the immune system. Previous studies, however, have not been large enough to prove the combination could be an effective treatment option. 
The combination with cisplatin and vinblastine as a palliative treatment may reduce symptoms in patients with advanced mesothelioma. Mitomycin does not work for all patients with mesothelioma. Researchers anticipate that future studies will hopefully provide positive feedback on the use for mesothelioma treatment.
Common Side Effects
Chemotherapy treatments involving mitomycin can cause a decrease in the number of blood cells in the body. Not having enough blood cells can increase the chances of developing an infection and can cause moderate to severe side effects. Signs of infection include fever, sore throat, cough, or congestion.
Common side effects of taking mitomycin may include:
Blurred vision
Fainting
Hair loss
Headache
Loss of appetite or weight
Loss of strength and energy
Nausea
Pain near the injection site
Rash
Sores in the mouth and throat
Vomiting
Less common side effects that may be serious include shortness of breath, difficulty breathing, or irregular heartbeat. In some cases, mitomycin may cause hemolytic uremic syndrome, which is an infection that causes anemia and kidney problems. Signs of hemolytic uremic syndrome include diarrhea, decreased urination, fatigue, or swelling of the face, arms, hands, feet, ankles, or lower legs.
Everyone's bodily reaction to mitomycin and most chemotherapies are different. Doctors monitor patients receiving the medication for infection or harmful side effects.
Use In Mesothelioma Clinical Trials
Clinical trials help researchers discover new ways to treat mesothelioma. Through mesothelioma clinical trials, medications like mitomycin can be tested for efficacy and safety before being offered to the public. Methotrexate, despite the risks, has shown success in the treatment of some mesothelioma patients.
An early 1990s study tested the combination of cisplatin, mitomycin, and alpha-interferon on pleural mesothelioma patients. About half of the tested patients had stable disease, while six out of the 19 had disease progression. Study participants experienced some minor side effects, such as vomiting. The trial, however, did not show much success in reducing disease progression.
In 2006, researchers combined irinotecan, cisplatin, and mitomycin, and tested its effectiveness and safety in patients with pleural mesothelioma. The Phase II open-label study resulted in a 25 percent response rate and an overall improvement in psychosocial well-being.
A 2008 study in England combined mitomycin, vinblastine, and cisplatin with active symptom control (ASC), which involves differing treatments of side effects, to compare the overall survival of patients with pleural mesothelioma and analyze toxic side effects. The study also combined ASC with vinorelbine. Researchers concluded in the study that there was no benefit to ASC plus mitomycin, vinblastine, and cisplatin.