Asbestos Contaminated Sites in Oklahoma
The State of Oklahoma ranks 33rd in the United States for most asbestos-related deaths. The state's market for gas, agriculture, and power generation has led to significant exposure among workers and residents.
Get Free Mesothelioma Guide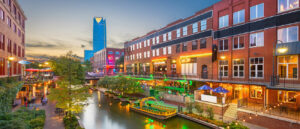 Asbestos Exposure in Oklahoma
Over 500 Oklahoma residents have passed away from either asbestosis or mesothelioma, both potentially fatal diseases affecting the lining of the lungs, abdomen, or heart cavity. Victims of mesothelioma likely developed it after being exposed to asbestos, which is a naturally occurring mineral mined and manufactured into insulation and other products.
Occupational Exposure in Oklahoma
Top industries affected by the carcinogen include agriculture, oil, gas, and manufacturing. Thousands of employees and nearby residents could have been exposed while at worksite areas in Oklahoma.
The state is a top-5 producer of oil and natural gas in the United States. Oil and gas production involves heavy fireproofing and heat protection, which typically involves asbestos in older buildings. Several oil and natural gas sites throughout Oklahoma have been listed on the United States Environmental Protection Agency's (EPA) Superfund National Priorities List, which is a database made up of toxic or contaminated sites throughout the United States. Some oil companies responsible for exposure include Conoco, Sinclair Oil, Ultramar Diamond, Sunoco, and Gary-Williams Energy.
As a top industry in the area, agriculture relied on certain equipment that often contained the toxin. The agriculture industry also relies on natural gas, oil, and manufacturing for operation, which often used the carcinogen during the mid-1900s. Farming equipment made before regulations could have contained the toxin in brakes, insulation, gaskets, and valves.
Hudson Refinery
Hudson Refinery, located in Payne County, operated from 1922 to 1982 as a site and included aboveground storage tanks (ASTs), wastewater treatment impoundments, separators, stained soils, a land treatment unit, and friable asbestos-contaminated material, according to the EPA. For decades, refinery operations contaminated soil, groundwater, surface water, and sediment. The EPA added the 200-acre property to the National Superfund List, which started a 16-year cleanup effort in 1999. The site was completed in 2015.
Fourth Street Abandoned Refinery
From the 1940s to the 1960s, Fourth Street Refinery operated in Oklahoma City. The refinery's activities, including waste disposal, contaminated soil and groundwater with hazardous chemicals. EPA cleanup led to the discovery of asbestos contamination. The 27-acre site remained on the EPA's Superfund list from 1994 to 2008.
Oklahoma Refining Company
The Oklahoma Refining Company, located in Cyril, contaminated the nearby soil. The 160-acre property was added to the Superfund List in 2003, where it remained until 2017. Cleanup efforts included asbestos abatement in multiple buildings and other structures on the site, including oil storage vessels and pipes.

Think you've worked somewhere with high asbestos risk? Request a case evaluation to assess your chances for exposure.
Evaluate My Case
Asbestos In Oklahoma Homes
Most products made for homes today do not contain the carcinogen, but older homes could still put residents at risk. Houses built or renovated between 1930 and 1970 may contain the toxin. Insulation was one of the most common applications of the carcinogen. Uses of the mineral in homes include:
Artificial ashes and embers
Boilers
Brake pads
Cement sheet
Decorative material
Door gaskets
Electrical insulation
Floor adhesive
Furnace ducts
Millboard
Roofing
Shingles
Siding
Steam pipes
Textured paint
Thermal insulation
Tile flooring
Asbestos Shipments To Oklahoma
W.R. Grace and Company is a conglomerate that specializes in fertilizer, machinery, shipping, oil, and mining in Montana. During the mid-to-late 1900s, W.R. Grace exposed its workers and the entire population of two neighboring towns, Libby and Troy, Montana, to asbestos. The company caused contamination in nearly every state. Oklahoma received over 1,000 shipments of the toxin from Libby from 1948 to 1993. The shipments totaled nearly 100,000 tons in total. Cities that received shipments from Libby include:
Duke
Oklahoma City
Southard
According to the Oklahoma Department of Labor, most of the carcinogen shipped to the state still remains in its original place. Residents of Oklahoma may come into contact with asbestos at home, work, or from structures built before the 1980s.
Legal Help For Oklahoma Residents
If you worked or lived in Oklahoma throughout the 1900s, you could have been exposed to asbestos. Talk to your doctor about possible exposure as soon as possible. Many mesothelioma patients in Oklahoma are eligible for financial compensation, which can cover medical expenses and other costs associated with mesothelioma. For help filing a claim, fill out a free case evaluation form.