Asbestos Contaminated Sites in Oklahoma
The State of Oklahoma ranks 33rd in the United States for most asbestos-related deaths. The state's market for gas, agriculture, and power generation has led to significant exposure among workers and residents.
Get Free Mesothelioma Guide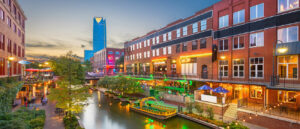 Asbestos Exposure in Oklahoma
Over the years, Oklahoma, also known as the Sooner State, has endured a large toll of asbestos exposure, with over 500 recorded fatalities attributed to asbestosis and mesothelioma. These diseases target the lungs, abdomen, and heart cavity linings, and are extremely deadly once contracted.
Mesothelioma, specifically linked to asbestos exposure, has emerged as a significant concern, leaving victims and their families grappling with the devastating consequences. Asbestos, a naturally occurring mineral prized for its heat resistance and durability, has been extensively used in various industries. However, the harmful effects of asbestos fibers, easily released into the air during mining, manufacturing, and product use, have resulted in a heightened risk of developing debilitating diseases.
Although asbestos usage has significantly declined in recent years, the lasting impact of past exposure continues to follow Oklahoma's residents, inflicting not only physical trauma but also emotional and financial ones that end up more costly in the end. This is why it is important for Oklahoma residents to prepare themselves with enough information to navigate the threats of asbestos exposure in their state properly.
Occupational Exposure in the Sooner State
Top industries affected by the carcinogen include agriculture, oil, gas, and manufacturing. Thousands of employees and nearby residents could have been exposed while at worksite areas in Oklahoma causing many deaths.
The state is a top-5 oil and natural gas producer in the United States. Oil and gas production involves heavy fireproofing and heat protection, which typically involves asbestos in older buildings. Several oil and natural gas sites throughout Oklahoma have been listed on the United States Environmental Protection Agency's (EPA) Superfund National Priorities List, a database of toxic or contaminated sites throughout the United States. Some oil companies responsible for exposure include Conoco, Sinclair Oil, Ultramar Diamond, Sunoco, and Gary-Williams Energy.
As a top industry in the area, agriculture relied on certain equipment that often contained the toxin. The agriculture industry also relies on natural gas, oil, and manufacturing for operation, which often used carcinogens during the mid-1900s. Farming equipment made before regulations could have contained the toxin in insulation, brakes, gaskets, and valves.
Hudson Refinery Contamination
The Hudson Refinery, operating from 1922 to 1982 in Payne County, holds a significant place in Oklahoma's industrial history. This site encompassed aboveground storage tanks (ASTs), wastewater treatment impoundments, separators, stained soils, a land treatment unit, and friable asbestos-contaminated material, as reported by the EPA. Over the course of its operations, the refinery activities led to the contamination of soil, groundwater, surface water, and sediment, leaving a long-lasting environmental impact.
The EPA designated the 200-acre property as a National Superfund site, which initiated a comprehensive cleanup effort spanning 16 years from 1999 to 2015. The completion of this cleanup marked a significant milestone in addressing the pollution legacy left behind by the Hudson Refinery. This wouldn't be the last time the EPA would get involved.
Fourth Street Abandoned Refinery
During the mid-20th century, the Fourth Street Refinery played a prominent role in Oklahoma City. Operating from the 1940s to the 1960s, this refinery engaged in various activities, including waste disposal, which resulted in soil and groundwater contamination with hazardous chemicals. The EPA's intervention led to the discovery of asbestos contamination, further exacerbating the environmental hazards associated with the site.
The EPA then placed the 27-acre Fourth Street Refinery site on its Superfund list in 1994, signaling the need for comprehensive remediation efforts. After years of concerted cleanup endeavors, the site was successfully delisted from the Superfund list in 2008, reflecting the progress made in mitigating the pollution and asbestos-related risks that plagued the area.
Oklahoma Refining Company
Situated in Cyril, the Oklahoma Refining Company left a lasting impact on the nearby environment through soil contamination. The company's operations had consequences that necessitated its inclusion in the Superfund List in 2003. The 160-acre property remained on the list until 2017, serving as a reminder of the urgent need for remediation.
Then asbestos abatement measures were implemented across multiple buildings and structures within the site. These encompassed the removal of asbestos from oil storage vessels, pipes, and other relevant infrastructure. The completion of the cleanup activities aimed to restore the environmental integrity of the Cyril area, alleviate the risks associated with asbestos exposure, and provide a safer environment for the local community.

Think you've worked somewhere with high asbestos risk? Request a case evaluation to assess your chances for exposure.
Evaluate My Case
Asbestos In Oklahoma Homes
Most products made for homes today do not contain carcinogen, but older homes could still put residents at risk. Houses built or renovated between 1930 and 1970 may contain the toxin. Insulation was one of the most common applications of the carcinogen. Uses of the mineral in homes include:
Artificial ashes and embers
Boilers
Cement sheet
Decorative material
Door gaskets
Electrical insulation
Floor adhesive
Furnace ducts
Millboard
Roofing
Shingles
Siding
Steam pipes
Textured paint
Thermal insulation
Tile flooring
Asbestos Shipments To Oklahoma
W.R. Grace and Company is a conglomerate that specializes in fertilizer, machinery, shipping, oil, and mining in Montana. During the mid-to-late 1900s, W.R. Grace exposed its workers and the entire population of two neighboring towns, Libby and Troy, Montana, to asbestos. The company caused contamination in nearly every state. Oklahoma received over 1,000 shipments of the toxin from Libby from 1948 to 1993. The shipments totaled nearly 100,000 tons in total. Cities that received shipments from Libby include:
Duke
Oklahoma City
Southard
According to the Oklahoma Department of Labor, most carcinogen shipped to the state remains in its original place. Residents of Oklahoma may come into contact with asbestos at home, work, or from structures built before the 1980s.
Legal Help For OK Residents
For Oklahoma residents and workers who have been diagnosed with mesothelioma, a glimmer of hope lies in the possibility of seeking justice and holding the powerful accountable for their mistakes. This path to justice and support begins with exploring your legal options. Many mesothelioma patients in Oklahoma may qualify for compensation that can alleviate the burden of medical expenses and other related costs. To navigate the complex legal process and seek rightful compensation, having a proper Oklahoma mesothelioma lawyer who knows local laws is crucial in becoming victorious.
If you believe you have a case, fill out a free case evaluation form to receive guidance and support. Remember, time is of the essence, and seeking legal assistance can provide you with the resources and advocacy you need to pursue the compensation you deserve.