Louisiana and Toxic Asbestos Exposure
Louisiana ranks 20th out of 50 states for total deaths related to asbestos exposure. Approximately 335 people die from asbestos-related diseases each year.
Get Free Mesothelioma Guide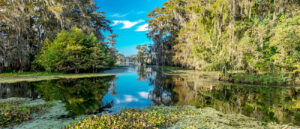 Asbestos Exposure in Louisiana
Before the 1970s, asbestos was a "miracle mineral" that was used in many industrial capacities for its durability, heat-resistance, and cost-effectiveness. The U.S. military also heavily utilized the mineral in construction. Louisiana ranks 20th for asbestos exposure in the U.S. due to its significant involvement in oil. Prolonged exposure to asbestos can cause progressive cancer known as mesothelioma, which can attack the lungs.
High-Risk Areas
These locations are high-risk because they've been connected to asbestos on some level. Jobs that tend to be risky for exposure include:
Demolition crews
Drywall installers
Factory and plant workers
Mechanics
Miners
Pipefitters
Plumbers
Shipyard crew members
Tile and roof installers
Regulations Against Asbestos
There are multiple organizations in place to help combat exposure to and ban asbestos in the United States. The EPA and the Agency for Toxic Substances and Disease Registry (ATSDR) are such organizations.
The EPA passed a set of regulations known as the National Standard for Hazardous Air Pollutants (NESHAP). Louisiana follows the NESHAP and has also placed state regulations for minimizing exposure to asbestos and reducing its legal use. NESHAP, paired with Louisiana's state regulations, are put in place to reduce chances for the release of asbestos fibers during all activities that require contact with the carcinogen.
One legal regulation in Louisiana that differs from others is the Louisiana School Abatement Act. This maintains the acknowledgment that asbestos products were used in elementary and secondary schools. The remainder of Louisiana regulations has state specifics on aspects of the NESHAP, such as how certain rules are enforced and the necessary accreditation and legal documentation.
Legal Recourse for Louisiana Residents
Because there is no legal level of exposure, if a person experienced hazardous exposure while on the job and developed mesothelioma or another asbestos-related condition, their employer could be held responsible for negligence. It's essential to speak with an experienced mesothelioma attorney about the details of your illness and exposure to see if you have a case.
Cancer Treatment Centers Near Louisiana
There are many experienced, medical professionals at cancer treatment centers. These doctors have seen many patients with similar lung cases and can offer you specific resources and treatment based on the results from other patients like you. Cancer treatment centers near Louisiana include:
Texas
University of Texas MD Anderson Cancer Center
Houston, Texas
Main: (713) 792-6161
Toll Free: 1-877-632-6789 (1-877-MDA-6789)
Oklahoma
Stephenson Cancer Center
Oklahoma City, Oklahoma
Main: (800) 750 – 2273
What Next?
If you suspect you've worked in a contaminated environment and were exposed, you don't have to go through this alone. Get in to see your doctor immediately for a lung screening, diagnosis, and treatment.
It could be helpful to consider where you were exposed. If you came into contact with asbestos at the workplace, it's most likely due to employer negligence and you could be eligible for compensation via a legal claim.