Asbestos in Homes and Buildings in Arkansas
Though the risks of natural asbestos exposure are smaller when compared to the demolition of buildings, there are still many that are exposed to airborne asbestos living near the natural deposits and mines. If your home is near these deposits, then you might have suffered secondhand exposure.
Get Free Mesothelioma Guide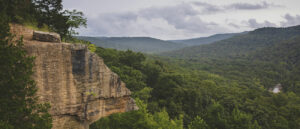 Asbestos Exposure in Arkansas
With a variety of soil and rock deposits, Arkansas carries a higher level of risk of asbestos exposure than many central states (where naturally-occurring asbestos is uncommon). In addition to natural sources, mineral shipments from mines in Libby, Montana, have resulted in hazardous exposure to the public in the North Little Rock area. Likewise, up to 40 years after exposure, plant, manufacturing, and construction workers, as well as their families, may be at risk of receiving a mesothelioma diagnosis requiring extensive cancer-like treatment.
Today, asbestos (though an effective fire-resistant construction material) is a known cause of chronic lung disease, mesothelioma. For decades, its use in homes and commercial buildings in ceilings, boilers, and electrical and pipe insulation left thousands in the Natural State at risk of developing respiratory illnesses. Between 1995 and 2004, 77 residents died due to complications from malignant mesothelioma in the state. In terms of total mesothelioma deaths, Arkansas ranked fortieth during that time but ranked second in terms of years of potential life lost per death (i.e. 16.5 years of potential life lost per death in Arkansas).
Additionally, between the years 1999 and 2017, there were 1,848 asbestos-related deaths in Arkansas. Among all counties in the state, Pulaski County had the highest number of deaths with 208 total or 10 per year. Next, Benton County (171 total deaths), Saline County (125 deaths), and Sebastian County (118) had the highest number of asbestos-related deaths. Too, the state's rate of death is lower than the national average (3.4 compared to 4.9). However, Polk County's death rate of 9.0 deaths per 100,000 people is more than twice the state rate. Other counties with high rates of asbestos-related death include Ashley County (8.2) and Ouachita County (7.0). These county rates are higher even than those of surrounding states like Louisiana (5.9), Mississippi (4.2), Oklahoma (3.7), and Texas (3.3).
High-Risk Areas
In other states, high-risk areas for asbestos exposure are typically surrounding natural mineral deposits, construction and demolition zones, and military bases. Yet, Arkansas has only two occurrences of natural asbestos deposits – found within larger bedrock deposits – and no major Navy or Marine installations (there is a small Air Force base in Jacksonville and Army training posts in northern and central parts of the state). Subsequently, a majority of mesothelioma cases in the region stem from occupational exposure to asbestos.
The former W.R. Grace brick processing plant at 600 Dixie Lane, North Little Rock (NLR), received approximately 85,050 tons of asbestos-containing vermiculite ore between 1953 and 1989. Anecdotal reports from the time trace the ore's arrival by railcar and transference to silos by conveyor belt and bucket elevator. This open-air process potentially exposed countless workers and townspeople to breathing in hazardous vermiculite flakes containing odorless, colorless asbestos.
Furthermore, while the Grace Zonolite Company was in operation, thousands of plant workers already suffering primary exposure to asbestos on the job unknowingly put their families at risk, too. Commonly, tiny asbestos fibers stuck to the clothes, shoes, skin, and hair of workers and were transported home each day, subjecting family members to secondary exposure risks. The park, within a half-mile radius of the plant, is one of several residential, commercial, public, and recreational Arkansan areas with asbestos in the soil that, if disturbed, infects the air with hazardous fibers.
Environmental Exposure in Arkansas
Even today, residents of Arkansas worry about the risks of environmental exposure to asbestos. As a known carcinogen, any level of exposure may lead to lung damage. In the Dixie neighborhood of NLR, Environmental Protection Agency (EPA) testing in 2011 revealed the presence of asbestos – leftovers from the Grace Company era. Traces were also discovered in Conley Park and Redwood Elementary School. Other places in the state where residents have been exposed to asbestos include:
Reynolds Metals Company in Malvern
Hotel Grim at 301 N State Line Avenue, Texarkana
Regency House at 110 E. Broad Street, Texarkana
Stuart's Brake Shop (and other shops that handled Honeywell brake parts) in Little Rock and North Little Rock
For state residents, the Arkansas Division of Environmental Quality (ADEQ) enforces asbestos demolition and removal regulations – specifically, Regulation 21. Subsequently, the Arkansas Asbestos Grant Program (AAGP) collects fees from ADEQ applicants and forms and gives those to cities for abatement and remediation activities.
For an Arkansas-approved asbestos contractor, call the ADEQ office at (501) 682-0718 or visit their website.

Asbestos causes latent mesothelioma. Think you were exposed? Request a case evaluation to pinpoint the cause and who's responsible.
Evaluate My Case
Mesothelioma Treatment Centers Near Arkansas
If you've received a mesothelioma prognosis, finding adequate treatment close to home can be difficult. As such, there are no National Cancer Institute-designated cancer centers in the state. Regardless, some certified treatment centers are nearby in neighboring states. Below are options available to patients seeking federally-recognized cancer treatment centers:
St. Jude Children's Research Hospital
262 Danny Thomas Place, Memphis, Tennessee 38105
General Information: (901) 595-3300
Appointments & Referrals: 1-866-278-5833 (1-866-2STJUDE)
Harold C. Simmons Comprehensive Cancer Center
2201 Inwood Road, Dallas, Texas 75390
Main: (214) 645-4673
Toll Free: 1-866-460-4673 (1-866-460-HOPE)
Stephenson Cancer Center
800 NE 10th Street, Oklahoma City, Oklahoma 73104
Patient Care: (405) 271-1112
Toll-Free: 1 (800) 750-2273
Asbestos Regulation in Arkansas
To date, the use of asbestos in building materials or otherwise is yet to be banned. Thus far, the state does not have a federally-approved OSHA-like program for workplace standards. Consequently, the EPA and the Occupational Safety and Health Administration (OSHA) are responsible for the safety of the public and workers around the country that may be exposed to the dangerous mineral.
For residents who suspect their mesothelioma was caused by an environmental or occupational source in Arkansas, compensation may be available. Download our free mesothelioma guide for more information about your medical, legal, and financial options.