What Does Asbestos Tile Look Like?
Asbestos tiling isn't as commonly used today as it once was. Yet, between the 1950s and 1980s, asbestos-containing flooring was hugely popular. Asbestos tile looks like regular tiles between 9"x9" and 18"x18" in size. Sometimes, dark discoloration appears after years. Due to the danger of exposure, homeowners and construction workers should not disturb or demolish asbestos-containing materials.
Get Free Mesothelioma Guide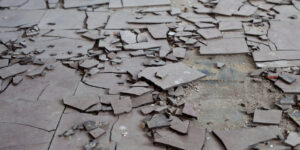 What Does Asbestos Tile Look Like in Flooring?
In flooring, asbestos tiles look like common vinyl tiling. Starting in the 1940s, manufacturers ramped up the use of asbestos as an additive. Mixing the mineral into products fireproofed and soundproofed them as well as added chemical corrosion resistance. In the 1950s, asbestos-containing vinyl floor tiles were installed into many buildings and homes.
Think you've worked or lived somewhere with high asbestos risk? Request a case evaluation to assess your chances for exposure.
Evaluate My Case
Flooring materials that may contain asbestos include:
Adhesives and carpet glues
Cove bases
Floor tiles
Mastics
Usually, you can't tell whether tiles have asbestos just by looking at them. Moreover, asbestos tile removal could expose you and your family to toxins. However, there are a few factors to help you identify potential asbestos-containing tiles. For instance, contaminated vinyl flooring was often manufactured in certain sizes.
Use the below table for help identifying asbestos tiles.
Identifying Asbestos Vinyl Flooring

Size
9 inches by 9 inches, 12 inches by 12 inches, 18 inches by 18 inches
Area of home/building
Kitchen, hallways, and mudrooms are most likely to have asbestos-containing materials (ACMs) in the floors.
Other flooring
Encapsulation (sealing old flooring by covering it with new floors) has long been an abatement technique in the U.S. Removing floors could reveal tiles with ACM.
Testing
Asbestos testing by a lab is the best way to confirm unlabeled ACM.
What Color Is Asbestos Tile?
Asbestos tile, on the vinyl's surface, can be any color or design. Beneath, ACM vinyl flooring sometimes has an oily or dark discoloration. Over time, oils in the asphalt added to the tiles seep out.
Other conditions, such as mold, cause dark colors on tiling. As such, the Environmental Protection Agency (EPA) recommends leaving damaged flooring alone until inspected by professionals. If tiles are in good condition, the risk of asbestos exposure is low.
How Do You Cover Broken and Contaminated Floor Tiles?
Generally, encapsulation is the most efficient way of dealing with asbestos tiles. Covering asbestos-containing tiling seals in the toxic fibers. Also, it prevents them from becoming airborne through normal wear-and-tear from foot traffic.
Yet, many homes (especially homes built before the mid-1980s) already covered contaminated floor tiles with new flooring or carpet. In these cases, renovators often want to remove old floors before installing new ones.
Rely on asbestos professionals to test and remove contaminated areas. Depending on the state you live in, some laws could affect your construction plans.
Exposure to Contaminated Flooring
At times, damaged asbestos tiles, adhesives, or carpet glues become flaky. Crumbling ACM is a health risk because it releases fibers too small to see into the air.
Large amounts of friable asbestos form loose asbestos dust. Dust is even more hazardous because it attaches to skin and clothes and can be transferred to other people.
While there are no immediate symptoms, exposure puts individuals at risk of asbestos-causing diseases like lung cancer, colon cancer, and malignant mesothelioma.