What Does It Mean to Be a Mesothelioma Caregiver?
When a loved one receives a mesothelioma diagnosis, the lives of everyone around them change. Whether a spouse, family member, or close friend, you may suddenly find yourself as this person's primary caregiver, responsible for providing love, support, and overall care. Learn about the resources and support available to mesothelioma caregivers.
Who Can Be a Caregiver?
Unlike formal caregivers, who are paid to provide care, an informal caregiver is an unpaid individual who assumes the responsibility of assisting another person, typically an ailing loved one, with their daily life and medical needs. Serving as a mesothelioma caregiver can quickly become an overwhelming and isolating task, especially if you don't have previous caregiving experience. During this time, caring for yourself becomes as important as caring for your loved one.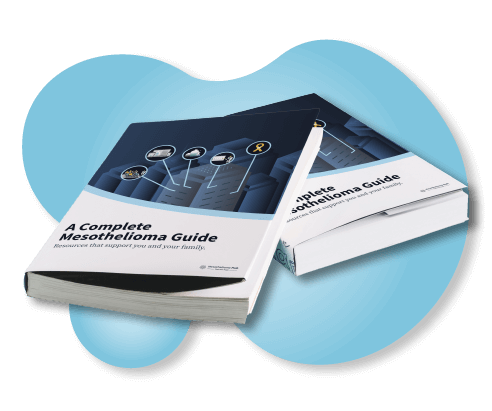 Caring for someone who has been diagnosed with mesothelioma? You don't have to do it alone. Take Mesothelioma Hub with you.
Caring for Someone With Mesothelioma
Becoming a primary caregiver for someone with mesothelioma can be time-consuming and emotionally draining. The average family caretaker spends approximately 25 hours a week providing care. You will inherit responsibilities and decisions you probably never anticipated, including end-of-life preparations, hospice care, and power of attorney. If your loved one elects to discontinue treatment or opts for a DNR order (do not resuscitate), you will likely inherit the responsibility for ensuring the administrative aspects are handled.
Below is a list of tasks you can expect to take on when serving as a mesothelioma caregiver.
Assisting with daily activities, such as feeding, bathing, and housekeeping
Transporting the patient to and from medical appointments
Administering and tracking medication
Monitoring and reporting any changes in overall health
Working with the cancer care team to ensure you understand all at-home medical duties
Managing financial, insurance, and legal matters
In some cases, taking care of a loved one who is struggling with a terminal illness requires more time than your normal life can permit. The Family and Medical Leave Act (FMLA) can help if you need to take a temporary leave of absence from work.
Caring for Yourself
It's crucial to take time for yourself when caring for someone else. You may feel guilty or selfish, but without caring for yourself, you run the risk of burnout and exhaustion, also referred to as compassion fatigue. Eventually, this can hinder the quality of care you are able to provide to your loved one.
8 ways mesothelioma caregivers can care for themselves:
Take breaks when you feel overwhelmed.
Make sure to stay nourished. Eat well, exercise, and get enough sleep.
Talk to a counselor.
Join a caregiver support group.
Take time for things you enjoy.
Stay organized.
Educate yourself about mesothelioma and caregiving.
Ask for help — don't be afraid to seek support when you need it!
It's OK to Grieve
When serving as a caregiver to a loved one with mesothelioma, the grieving process often starts before the person passes away. Sometimes called anticipatory grief, caregivers experience a sense of loss of the person's former self. It is difficult to watch someone you love lose their independence and ability to take care of themselves, especially when end-of-life arrangements are in the back of your mind. Financial and legal stressors can make the task all the more challenging.
Depression, guilt, and anger are all understandable feelings to experience as a caretaker. You may feel like you're losing your own sense of freedom, or experience an inner struggle as you try to adapt to the new relationship you have with your loved one. Keeping a journal, talking to a friend or counselor, and getting involved with support groups can all help to alleviate the stress and hopelessness you may feel during this hard time.
Support for Mesothelioma Caregivers
There are many organizations that provide empowerment and support to mesothelioma caregivers. Getting involved can help you feel less isolated, since you'll be joining a community of people who understand what you're going through and who can offer relevant feedback and suggestions for the challenges you are facing. Support groups are often available in-person or online.
Mesothelioma caregiver support groups and resources:
Hospitals, social workers, and religious organizations may be able to provide more information on local or online support groups. Facebook is another online community well-suited for mesothelioma caregivers seeking remote support.
If a family member is facing a mesothelioma diagnosis, it's likely a result of corporate negligence.