Mesothelioma Caregivers and Support
When a loved one receives a mesothelioma diagnosis, it's life-changing for the patient as well as everyone around them. A spouse, family member, or close friend may become a caregiver, in response. A caregiver provides support and daily, overall care as the patient progresses through treatment. Fortunately, a number of resources and support groups are available to mesothelioma patients and their caregivers.
Get Free Mesothelioma Guide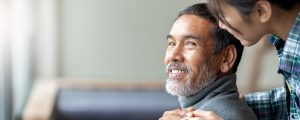 What Is a Mesothelioma Caregiver?
Typically, a mesothelioma caregiver is an unpaid individual who assists a family member or friend with daily tasks as they progress through treatment. The complications of mesothelioma cancer and rigors of therapy can make it harder for patients to do many of their normal activities. Spouses, children, parents, other relatives, friends, and even neighbors can act as a caregiver if they are willing to help.
A caregiver is an important member of a patient's cancer care team. A good caregiver can make a positive impact on the patient's mental (and physical) state throughout treatment. Caregivers work with doctors and nurses to administer drugs at home, help to manage the patient's symptoms, and record and report side effects.
Approximately 43 million Americans performed the duties of a caregiver in 2015, according to the most recent study conducted by the National Alliance for Caregiving. The value of caregiving services to patients was $470 billion. Moreover, the value of "informal caregiving" increased each year in the past decade as healthcare costs continue to rise.
Most with mesothelioma are too sick to work.
Call us for a case evaluation and discover other compensation options that may help pay for treatment, sick leave, and other necessities.
833-997-1947
Who Can Become a Mesothelioma Caregiver?
Anyone prepared to assist a patient with tasks they're no longer able to manage can become a caregiver. In most cases, caregivers are not trained for the job. Informal and family caregivers don't need any certification to get started. As soon as the patient needs help, caregivers can begin providing assistance.
For many primary mesothelioma caregivers, new responsibilities require lots of focus and time. Working full-time may be difficult while acting as a caregiver. Some employees may be able to use time off mandated by the Family and Medical Leave Act (FMLA). FMLA leave lets certain employees take up to 12 weeks off each year – without pay and without fear of losing their job.
What Does a Mesothelioma Caregiver Do?
Many people take on a number of new roles providing care for the patient, and these roles can change over time. Mesothelioma caregivers manage patients' day-to-day health care (such as making sure the patient takes their medication on time). Other common caregiving tasks include:
Bathing, grooming, and dressing
Buying groceries and cooking
Cleaning house
Coordinating with care team
Doing laundry
Helping patients eat
Maintaining medical documents
Managing symptoms
Transportation to appointments
Using the bathroom
Caring for Someone With Mesothelioma
Exposure to asbestos for prolonged periods of time can damage the lung, chest, and heart cavities. Over the course of decades, even breathing can become painful. Consequently, many mesothelioma patients are unable to keep up with old routines.
Caregivers for patients with mesothelioma often face additional challenges in treating tumors, recovery, and complications. As a mesothelioma caregiver, you may take on responsibilities you never anticipated, including end-of-life preparations (i.e., making funeral arrangements), hospice care (i.e., cleaning lung intubation tubes), and legal responsibilities (i.e., holding power of attorney). Additionally, if your loved one elects to discontinue treatment or chooses to sign a DNR order (do not resuscitate), you may inherit the duty of handling a range of administrative estate tasks.
Below is a list of tasks you might encounter when becoming a mesothelioma caregiver.
Assisting with daily activities, such as feeding, bathing, and housekeeping
Transporting the patient to and from medical appointments
Administering and tracking medication
Monitoring and reporting any changes in overall health
Working with the cancer care team to ensure you understand all at-home medical duties
Managing financial, insurance, and legal matters
Working with the individual and their legal team to determine the source of their asbestos exposure
Long-distance Caregiving
Providing care for your loved ones when you live in another city or state can be even more expensive as well as cause more anxiety. In addition to paying for home aid or hospice care, long-distance caregiving can include costs like:
Missed work
Out-of-pocket expenses
Phone calls
Travel
Long-distance caregivers may also feel guilty about not being present throughout their loved one's cancer treatments. Too, many people experience additional guilt and anxiety about missing responsibilities at home when traveling for caregiving. Nonetheless, there are several ways long-distance caregivers can take an active role in helping a loved one through treatment, such as:
Check patient's house for safety during visits
Clean or arrange for the cleaning of patient's house
Ensure people living close to patient know how to contact you
Maintain contact with people living close to the patient
Make sure the patient and specialist can reach you
Plan and set goals for visits
Plan for a crisis
Record all medicines and treatments for the patient
Grieving while Caregiving
Undoubtedly, it's hard to watch someone you love lose their health and independence. Moreover, many caregivers must keep end-of-life arrangements in the back of their minds. Managing so many intense tasks and feelings can lead to mental health complications like depression, anxiety, and PTSD.
You may feel like you're losing your freedom or struggle as you adapt to the new relationship with your loved one. Hopelessness, guilt, and anger are all understandable feelings you may experience as a caretaker. Remember: your feelings are a natural response to a stressful situation, and it's okay to grieve.
Keeping a journal, talking to a friend, making an appointment with a grief counselor, and joining cancer support groups can help alleviate tensions you may feel during this difficult time.
Support for Mesothelioma Caregivers
There are many organizations that provide support and resources to mesothelioma caregivers. In these communities, you can find people who understand what you're going through and can offer relevant suggestions for the challenges you're facing.
Hospitals, social workers, and religious organizations may be able to provide more information on local or online support groups for those exposed to asbestos and their loved ones. Support groups are available both in-person and online.
Mesothelioma Caregiver Mental Health
It's crucial to take time for yourself, especially when caring for someone else. You may feel selfish, but you run the risk of exhaustion and burnout when you neglect your own health. Caregiver-related exhaustion is also referred to as compassion fatigue. Eventually, this can negatively affect the quality of care you are able to provide to your loved one.
10 Tips Improve Self-care for Mesothelioma Caregivers:
Learn more about mesothelioma and caregiving advice.
Make time for the things you enjoy.
Take breaks when you feel overwhelmed.
Maintain your health by eating nutritious foods, exercise regularly, and get enough sleep.
Stay up to date with your medical needs (checkups, screenings, etc.).
Watch out for physical and mental signs of depression and anxiety.
Talk to a counselor about your anxieties.
Join a caregiver support group.
Don't be afraid to ask for help or seek support when you need it.
Caregiving Statistics in the U.S.
The average age of caregivers is about 49 years old. The average age of a person receiving care is 69 years old.
Most caregivers (82 percent) help one adult, 15 percent help two adults, and three percent help three or more adults.
People who spend 21 or more hours weekly as a caregiver are four times more likely to care for a spouse or partner.
About 13 days every month are spent on everyday tasks (such as administering medicine, cooking, cleaning, laundry, shopping, and transportation).
Caregivers who live with their patient(s) dedicate an average of 40.5 hours each week providing care.
The value of unpaid caregiving ($470 billion in 2013) exceeds the value of paid home care and total Medicaid spending for that year.