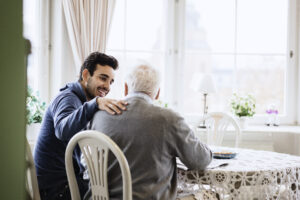 Caregivers Day: Why We Need Caregivers
Living with cancer is no easy task. Hours of intense treatment, recovery, and general side effects of cancer take a toll on patients and those close to them. Spouses, family members, and close friends often fill the roles of supporters and caregivers. National Caregivers Day, formed by the National Association for Home Care & Hospice, celebrates those who have gone through significant changes to offer their support.
When a patient receives a mesothelioma diagnosis, life begins to change immediately for all involved, especially the diagnosed and their closest loved ones. Managing day-to-day tasks are done differently when factoring in doctor appointments, treatments, and recovery time. 
Caregivers provide support while the patient goes through their cancer journey. Support can come by various tasks, including making sure the patient takes their medication on time, buying them groceries and cooking, cleaning, or helping them bathe and dress. For mesothelioma patients, their caregivers provide essential support to keep things on track during a difficult time.
The Caregiver Burden
We go through life surrounded by caregivers who support the chronically ill, disabled, and aged. According to the National Alliance for Caregiving, about 43.5 million caregivers work in the United States. While caregivers provide a crucial role to mesothelioma patients, hours of free labor each day can significantly impact their mental health.
On average, caregivers spend 13 days each month on simple tasks like shopping, housekeeping, transportation, and administering medication. Six days each month are spent feeding, dressing, grooming, bathing, and assistance with going to the bathroom. When caregivers are not physically with a cancer patient, they may be researching information about the diseases, coordinating doctor visits, and managing financial matters.
How to Thank a Caregiver
Help offset compassion fatigue or the burnout that comes with caregiving responsibilities by showing your support. Since most caregivers provide unpaid work, it's important to keep them motivated by thanking them in some way. Whether you are a cancer patient, a close loved one, or a caregiver, showing your appreciation can go a long way. We don't have to wait until National Caregivers Day to show our gratitude.
Caregiver Gift Basket Ideas
Show your support through individualized gift baskets. Purchasing or making a caregiver gift basket can be a great way to thank a caregiver.  A gift basket can come in the form of a care package for a cancer patient or caregiver. Assemble a gift basket with things that show your appreciation, such as a thank-you note. Stress relief items like blankets, candles, and candy can spark joy.
For a mesothelioma patient, gift baskets are also good cancer survivor gifts. A care package for a cancer patient may include comforting items while they go through treatment. A chemo gift basket may include blankets, socks, lip balms, or other comfort items.
Caregiver Support Groups
Consider finding support groups that your caregiver may benefit from. Many organizations provide resources or support to caregivers. Individuals that attend support groups understand what you're going through.
In-person or online mesothelioma caregiver support groups and resources:
Raising Awareness with #NationalCaregiversDay
You can celebrate National Caregivers Day on the third Friday of every February. To raise awareness for caregiver fatigue and show support to all the dedicated caregivers, use the #NationalCaregiversDay hashtag. Mesothelioma Hub celebrates all types of caregivers, including family caregivers, professional caregivers, independent caregivers, and private caregivers. We must show our appreciation to those who spend hours taking care of mesothelioma patients.