Will the EPA Ban Chrysotile Asbestos?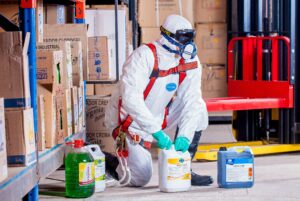 EPA Proposes Chrysotile Asbestos Ban
On April 5, 2022, the Environmental Protection Agency (EPA) proposed a rule to prohibit the current use of chrysotile asbestos in the United States. Michael S. Reagan, EPA administrator, mentioned that the EPA asbestos ban would protect Americans from exposure to carcinogens. It could potentially showcase progress in their work to implement the TSCA law, which previously attempted to ban asbestos and other harsh chemicals in 1989.
TSCA stands for Toxic Substances Control Act, and it proposed that reporting, record-keeping and testing, and restrictions of chemical substances and mixtures are required nationwide. However, two years later, officials overturned the ban and placed limitations on the authority of EPA to address potential risks of asbestos. A 2016 amendment to TSCA addressed safety of existing chemicals along with a mandate to prioritize and analyze the chemicals posing a health risk. This amendment proposed partial authority to the EPA in an effort to identify and ban high-priority chemicals. It began the process of implementing this current EPA asbestos ban.
Industries That Use Asbestos
The recent EPA asbestos ban targets chrysotile asbestos, the most common form of asbestos in the U.S. today. Chrysotile asbestos, more commonly known as "white asbestos" due to its color, consists of a cluster of white coiled fibers. The U.S. imports chrysotile asbestos for asbestos diaphragms and sheet gaskets within the production industry. In addition, consumers may find chrysotile asbestos in everyday products and walls, ceilings, and floors. Chrysotile asbestos can cause mesothelioma because fibers can enter the lungs via human air ways. Individuals could potentially be exposed to asbestos without knowing.
About ten factories in the U.S. still use asbestos diaphragms and sheet gaskets to aid in chlorine production. Chlor-alkali factories use salt and electric currents to produce chlorine, bleach, and other harsh chemicals. The Chlor-alkali electrolysis process sends an electric current through salt water to convert chlorine and alkali chemicals to elemental chlorine. These factories that use chrysotile asbestos in chlorine production depend on asbestos imports to meet goals and uphold expectations. The American Chemical Council infers that the EPA asbestos ban could directly impact the nation's drinking water supply by banning. A large portion of imports of chrysotile asbestos goes to the Chlor-alkali industry, which aids in the water-treatment process.
Asbestos, a mineral found and industrialized by mankind, has been used throughout history. Individuals used to weave asbestos into clothing and use it as fireproof material. Subsequently, industries began manufacturing it, and asbestos mining quickly switched from manual to mechanic. Asbestos became popular insulation material, and by the late 1800s, industries used asbestos in brake linings and high-pressure asbestos gaskets at factories. As the asbestos industry gained more traction, individuals slowly noticed a correlation between asbestos products and cancer. Today, select few filtration factories, roofing manufacturers, and automotive industries potentially use asbestos in product production nationwide.
What this Ban Means for Workers Previously Exposed
In December 2020, before proposing this ban two years later, the EPA completed a final risk evaluation for asbestos, chrysotile asbestos. This risk evaluation showcased unreasonable health risks to consumers, bystanders, workers, and those who work near chrysotile asbestos. This final risk evaluation is one of two, with the second evaluation proposed for 2024. The evaluation process provides raw data of harmful exposure to workers and consumers which can aid in legal processes. If you were exposed prior to this final risk evaluation, and developed mesothelioma or asbestosis symptoms, you may qualify to file a claim regarding the EPA asbestos ban. A mesothelioma lawyer is knowledgeable in the topic and can help guide you through the process of potential workers' compensation.
When experiencing cancer symptoms due to prior asbestos exposure in your industry, treatment can help alleviate some pain. Research medical centers for mesothelioma treatment to begin the process as symptoms persist. A doctor will refer you to a medical center that can provide the services you need. No matter your industry, mesothelioma doctors aid in your journey following asbestos exposure at your place of work.
If exposed to asbestos in your industry, you may feel inclined to learn more about the history of asbestos. Research can help workers in all industries easily track and evaluate the risks of asbestos in the workplace as the new EPA asbestos ban takes effect over the next few years. Our free mesothelioma guide can provide helpful information such as mesothelioma treatment options, legal and financial help, and much more all in one place.
Last updated on October 17th, 2023 at 04:51 pm