2021 Year in Review – Top Mesothelioma News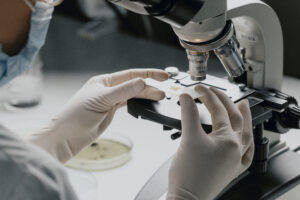 Top Mesothelioma News Stories in 2021 – Year in Review
Our 2021 year in review summarizes the top mesothelioma news. We focused on asbestos exposure, mesothelioma research, and survivor stories.
A Journey Through The Mesothelioma Timeline
We followed Allen, a 65-year-old mesothelioma patient, through his mesothelioma journey. The journey started when the Texas resident joined the military in 1984, where asbestos exposure first occurred. During his six-year venture with the U.S. Navy, Allen came into contact with contaminated products located in barracks, boiler rooms, and other places aboard two different Navy vessels.
Asbestos exposure continued after Allen retired from the Navy and became an electrician at a shipyard in Texas. Decades later, he begins noticing symptoms. We continued following Allen's journey through his mesothelioma diagnosis and treatment.
Hand Sanitizer Test Positive For Carcinogens
A recent study of 260 hand sanitizers found 21 of them to have dangerous levels of benzene and other harmful chemicals. The Centers for Disease Control and Prevention (CDC) and other health agencies list benzene as a potential carcinogen. The chemical is most commonly used in the rubber and oil industries and has found itself in everyday products.
When the COVID-19 pandemic caused a worldwide shortage of hand sanitizers, the Food and Drug Administration (FDA) relaxed its standards in the manufacturing of hand sanitizers. Some unsafe brands include Artnaturals, Beauty Concepts, Born Basic, PureLogic, Scentsational Soaps & Candles Inc., Star Wars Mandalorian, and TrueWash.
Learning How To Improve Your Diet
A mesothelioma diagnosis brings new challenges to everyday activities, such as eating. Cancer patients often face malnutrition and muscle loss as they endure intense treatments. One of our top mesothelioma news stories of 2021 offers five simple tips for improving nutrition among mesothelioma patients.
While food doesn't cure cancer, eating foods with high nutritional value can provide mesothelioma patients with nutrients to help manage symptoms. Mesothelioma patients usually lack protein and calories needed for energy. Overall, patients can benefit from eating a balanced diet that includes antioxidants and limits processed sugar. Vegetables and fruits are high in antioxidants, which help prevent cell damage.
Philadelphia School District Ongoing Asbestos Removal Top Mesothelioma News
The Philadelphia School District made its way into some of our top mesothelioma stories of 2021 due to its ongoing efforts to remove asbestos from dozens of its schools. Over the last few years, the asbestos contamination has forced closure while the district conducts testing and abatement.
In 2019, a teacher from the district was diagnosed with mesothelioma after years of close contact with asbestos insulation. Inadequate inspections and years of exposed asbestos products led the Philadelphia Federation of Teachers to file a lawsuit against the district in 2020.
Ongoing Mesothelioma Research In 2021
T-cells, or white blood cells, are produced by the immune system to target and fight harmful substances that enter the body. This includes bacteria and viruses.  Researchers are using an adaptation of CAR T-cell therapy for mesothelioma treatment. The new therapy helps the immune system locate and fight cancer cells.
Early studies indicate the treatment can save healthy cells because of its ability to target only malignant ones. Modified T-cells and anti-PD1 medications are currently studied in phase 1 clinical trials with pleural mesothelioma patients. The potential side effects include fever, low blood pressure, and an increased chance of infection.
Asbestos Only Banned in Certain Products
The final top mesothelioma news story in our 2021 year in review takes readers through a timeline of major U.S. asbestos bans and regulations. Since the 1970s, federal agencies regulate how we import, manufacture, and consume products containing asbestos. Unfortunately, asbestos is not completely banned in the U.S.
Banned asbestos products include adhesives, automotive brakes, artificial logs, cement products, roofing materials, vinyl-asbestos floor tile, and many more. People may still come into contact with contaminated products in older vehicles, homes, and other structures. Without a total ban, other asbestos-containing products remain a potential threat for exposure. Small amounts of asbestos can be found in products that contain talcum powder, such as cosmetics.