Eloxatin (Oxaliplatin)
Oxaliplatin is a platinum-based chemotherapy drug commonly used in combination with other chemotherapy drugs. The U.S. Food and Drug Administration (FDA) first approved Oxaliplatin in January of 2004.
Get Free Mesothelioma Guide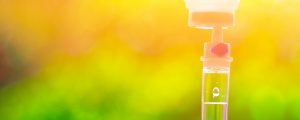 What Is Oxaliplatin?
Oxaliplatin in combination with infusional 5-fluorouracil and leucovorin was first approved to treat advanced colorectal cancer. The drug, also known as Eloxatin, has been clinically proven to improve survival, delay tumor growth, and shrink tumors in patients with colorectal cancer and stage III colon cancer.
Not long after its initial approval, researchers started testing oxaliplatin on mesothelioma patients in clinical trials. The drug is also being studied in the treatment for other forms of diseases, including:
Esophageal Cancer
Gastric Cancer
Liver Cancer
Non-Hodgkin's Lymphoma
Pancreatic Cancer
Urothelial Cancer
What is Eloxatin®?
Eloxatin is the brand name for oxaliplatin and manufactured by Sanofi-Aventis U.S. LLC. The biomedical product development company was founded in 1999. Eloxatin was approved by the FDA in 2002.
How Oxaliplatin Works
Mesothelioma patients are often treated with a combination of chemotherapy drugs to eliminate cancer cells and prevent them from spreading throughout the body. Like healthy cells, cancer cells spread by replicating and dividing (known as mitosis). Both healthy and cancer cells spread by replicating DNA and dividing during.
Eloxatin (Oxaliplatin) is made up of heavy metal compounds that can stop the replication of DNA and the division of cancer cells. By preventing the cells from dividing, oxaliplatin can stop the growth of cancer. Over time, the elimination of cancer cells will shrink a tumor.
Patients treated with oxaliplatin receive the drug through intravenous (IV) infusion and typically combined with fluorouracil or irinotecan. The dosage depends on the patient's size, type of cancer, and reaction to treatment.
Eloxatin (Oxaliplatin) Side Effects
Like most chemotherapy medications, oxaliplatin causes blood cell count to decrease, which increases the risk of infection and side effects. Patients typically do not experience all known side effects.
Less than half of patients receiving oxaliplatin may experience serious side effects, including infection and low white blood cell count, Posterior Reversible Encephalopathy Syndrome (PRES), lung changes, heart problems, or Rhabdomyolysis.
Common side effects of oxaliplatin include:
Constipation
Decrease in appetite
Diarrhea
Dizziness
Fatigue
Fever
Liver toxicity
Low red blood cell count
Nausea
Vision problems
Vomiting
Signs of Allergic Reactions
Chest pain
A decrease in blood pressure
Difficulty breathing
Flushing or itching
Rash
Shortness of breath
Signs of Peripheral Neuropathy
Burning in hands or feet
Inability to sense temperature of bathwater
Numbness in hands or feet
Tingling in hands or feet
Talk to your doctor about managing side effects. They can prescribe you to medications that relieve symptoms and give you recommendations on complementary treatments. Some self-care methods to combat symptoms include:
Avoid excessive sun exposure
Eat plain foods, like toast or crackers, to reduce nausea
Get plenty of sleep
Limit exposure to sick people or large crowds
Limit or eliminate alcohol consumption
Stay hydrated by keeping up with fluid intake
Wash your hands
Know your cancer treatment options.
Download our guide to get the latest information about mesothelioma treatments, clinical trials, complementary and emerging therapies.
Download Guide
Eloxatin – Oxaliplatin In Clinical Trials
There are not many approved medications to treat malignant mesothelioma. Through clinical trials, researchers can discover new ways to treat mesothelioma. Medications like oxaliplatin have been tested for efficacy and safety, so researchers can make improvements to be safe for public treatment.
A 2008 study investigated the efficiency and safety of oxaliplatin with or without gemcitabine in patients with malignant pleural mesothelioma previously treated with pemetrexed. Researchers wanted to study the response rate and disease control rate. Other study goals included progression-free survival and toxicity. Doctors found a partial response in two out of 29 patients and stabilized disease in eleven patients. Around 55 percent of patients experienced progressive disease. Researchers concluded the treatment may benefit pleural mesothelioma patients with minimal toxicity.
An open-label, phase II study completed in 2003 evaluated the outcome of a combination of raltitrexed and oxaliplatin in patients with malignant pleural mesothelioma. Out of around 70 patients in total that were enrolled, more than half had advanced disease. Results found the prognosis of twenty-four patients were classified as poor. The rest of the patients had stable disease or partial response. Researchers concluded that the combination of drugs showed success in pleural mesothelioma patients previously treated with chemotherapy, and the tolerability profiles of the medications were acceptable.
A Phase II study completed in 2013 at Columbia University tested the combination of oxaliplatin and gemcitabine as first or second-line chemotherapy in patients with malignant pleural or peritoneal mesothelioma. More than half of the participants were unable to finish the study, and most remaining patients did not respond to treatment.