Dosimetrists
Dosimetrists are an essential facet of a cancer patient's treatment team. A dosimetrist specializes in radiation oncology to improve the accuracy of treatment and combat side effects of radiation.
Get Free Mesothelioma Guide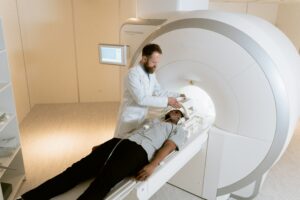 What is a Dosimetrist?
A dosimetrist is a medical professional who measures radiation exposure from X-rays and other types of radiation used in the treatment and diagnosis of diseases such as mesothelioma. A specialized medical dosimetrist uses CT, MRI, and PET scans to design treatment plans for patients who have been prescribed radiation by their oncologist. At a mesothelioma treatment medical center, these specialists determine the amount of radiation applied to a patient's tumor.
Discover what role a dosimetrist plays in the cancer journey and if they are the right specialist needed for your mesothelioma treatment plan.

Overwhelmed by your mesothelioma diagnosis? Download our free guide to learn more about the disease.
Download Guide
Why is Dosimetry Important?
Radiation oncology utilizes ionizing radiation to treat mesothelioma. Radiation therapy is similar to dosimetry as both involve the usage of CT, MRI, and PET scans. Although the two are alike, radiation dosimetry is essential in a specific way.
Radiation therapy can cause the death of both healthy and cancerous cells when a dosimetrist is uninvolved. Additionally, patients that receive chemotherapy often experience short-term and long-term side effects of radiotherapy. However, dosimetry controls the amount of radiation entering the body and can help cancer patients avoid excess toxicity. If damage has occurred during a mesothelioma radiation treatment plan, a dosimetrist can also help prevent the persistence of long-term excess toxicity and symptoms.
What Does a Dosimetrist Do?
These cancer specialists typically acquire formal education in registered radiation therapy or another science program. Most programs provide cancer doctors with a dosimetrist certificate to prove they are knowledgeable. Once out of school or through the duration of their training, dosimetrists typically perform their work in hospitals, research laboratories, or at a radiological oncology vendor.
Medical dosimetrists typically work alongside a radiation oncologist team to plan and deliver a patient's treatment options. They can also work in conjunction with thoracic surgeons and mesothelioma pulmonologists to provide the best treatment for a patient.
Specifically, a dosimetrist's role is to design, implement, and measure radiation doses to ensure a cancer patient receives optimal treatment. It can be difficult to position radiation to kill cancerous cells while preventing surrounding tissues from receiving the same deathly fate. Therefore, dosimetrists position the radiation beams and the patient to concentrate the beams in the desired area, avoiding surrounding tissues. By using a dosimetrist, patients can expect more precise treatment, better results, and fewer treatment side effects.
Mesothelioma dosimetrist specialists often use a device to assist them during the radiation process. There are two types of radiation dosimeter devices: passive and active dosimeters. Passive dosimeters produce a radiation-induced signal which is stored, processed, and analyzed over time. On the other hand, an active dosimeter generates a radiation-induced signal and displays the results in real-time. Medical professionals often use these two devices in conjunction to complement one another and produce the most accurate results.
How Do I Find a Dosimetrist Specialist?
Whether early on in treatment or seeking treatment during late-stage cancer, a dosimetrists can be a vital asset to your treatment team. Dosimetrists help to prevent toxic radiation as well as prevent resulting long-term side effects in patients. Mesothelioma Hub supports and works alongside you throughout all stages of cancer. Get in contact with a mesothelioma expert today to discover if a dosimetrist specialist is right for you and your treatment plan.