Ronald Reagan UCLA Medical Center
The Ronald Reagan UCLA Medical Center is one of the top places in California to receive mesothelioma treatment. A group of researchers established the cancer treatment and research center in 1955.
Get Free Mesothelioma Guide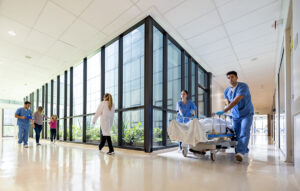 University of California Los Angeles (UCLA) Medical Center
The Ronald Reagan UCLA Medical Center in Los Angeles is one of the United State's highest-ranking hospitals. Once known as the University of California Los Angeles Medical Center, the medical center changed its name to Ronald Reagan UCLA Medical Center in 2008 after U.S. President Ronald Reagan.  The medical center is part of the UCLA Health system, which also includes: 
UCLA Santa Monica Medical Center

UCLA Mattel Children's Hospital

Stewart and Lynda Resnick Neuropsychiatric Hospital 

UCLA Health Clinics

David Geffen School of Medicine at UCLA

Jonsson Comprehensive Cancer Center
Ronald Reagan UCLA Medical Center Address and Information
Address
757 Westwood Plaza, Los Angeles, California 90095
Phone
Hospital Information: 310-825-9111
Patient Information: 310-825-8611
Emergency Department: 310-825-2111
Information Desk (First Floor): 310-267-9119
The medical center accepts a variety of health insurance plans, including Medicare and Medi-Cal. Patients with emergency or medically-necessary conditions may be eligible for the hospital's financial assistance program for low-income, uninsured, or under-insured patients.
Treatment for mesothelioma doesn't have to cost anything. You may have the right to legal compensation after being diagnosed with mesothelioma or another disease caused by asbestos exposure. Meso Hub helps patients and families find experienced Los Angeles mesothelioma lawyers and asbestos attorneys in California. Through legal asbestos compensation, mesothelioma patients can focus on treatment while a lawyer does the heavy lifting.
Related: University of Chicago Medicine Comprehensive Cancer Center
Disclaimer: Ronald Reagan UCLA Medical Center has no professional affiliation with Mesotheliomahub.com.
Jonsson Comprehensive Cancer Center
The Jonsson Cancer Center, located at the UCLA health Beverly Hills Cancer Center, is a cancer research center known for its wide variety of experimental and traditional treatments for cancer. The medical center employs individuals who specialize in cancer treatment, hematology, and cancer genetics.
In 1945, a group of cancer research volunteers at UCLA founded the Jonsson Cancer Center Foundation, which would later establish the UCLA Medical Center. The group was determined to find funding for cancer research and the discovery of new or more effective ways to prevent, diagnose, and treat cancer. 
Treatment Options at Ronald Reagan UCLA Medical Center
Patients in California and around the U.S. seek care at the Ronald Reagan UCLA Medical Center because of its world-class doctors, advanced technology, and modern facilities. The medical center provides certain healthcare services that may not be available anywhere. This includes care for mesothelioma, a rare disease caused by manufactured or imported asbestos-containing products.
One of the cancer center's most distinguished doctors, Robert Cameron, MD, serves as the Chief of the Division of Thoracic Surgery both at the UCLA cancer treatment center and at the West Los Angeles VA Medical Center. Dr. Cameron, who specializes in surgery of the lungs, pleura, esophagus, chest wall, mediastinum, and diaphragm, is considered one of the top mesothelioma doctors in the United States.
Besides mesothelioma, Dr. Cameron specializes in esophageal cancer, lung cancer, and other areas of expertise. The surgeon offers a wide range of services related to chest diseases, cancer screening, and clinical treatment trials using modern technology like robotics. Other well-known thoracic specialists at UCLA include Dr. Jay M. Lee and Dr. Jane Yanagawa.
Related: Questions to Ask Your Mesothelioma Doctor
UCLA Comprehensive Mesothelioma Program

The Mesothelioma Program at UCLA was established in 1997. For 25 years, the program has used lung-sparing surgery and other innovative treatments to improve the quality of life and survival time among patients with malignant mesothelioma. Since then, the program has made the hospital one of the top medical treatment centers for mesothelioma.
The UCLA cancer center pioneered pleurectomy and decortication (P/D), a surgical treatment for pleural mesothelioma involving the removal of the lining around the lungs (pleura) followed by radiation therapy. Dr. Robert Cameron himself pioneered the development of the lung-sparing and life-saving procedure.
Although the P/D treatment extends lives, doctors at the Ronald Reagan UCLA Medical Center recognize that mesothelioma cannot be entirely cured. Top doctors treat mesothelioma as a chronic condition, focusing on therapies like radiation therapy and chemotherapy to slow its growth and improve quality of life. Mesothelioma treatment requires a team of specialists to work together throughout each step of the patient's cancer journey. The types of mesothelioma specialists you may work with include:
Medical Oncologist
Dietitian
Palliative Care Specialist
Surgical Oncologist
Related: The International Mesothelioma Program
Mesothelioma Medical Center Clinical Trails
Hospitals in the UCLA Health system, including Ronald Reagan Medical Center, conduct hundreds of clinical studies each year. There are currently no actively-recruiting mesothelioma clinical trials. Recently, however, the UCLA medical group has hosted various mesothelioma studies, including Phase II MEDI4736 in Combination With Chemotherapy for First-Line Treatment of Unresectable Mesothelioma (PrE0505).
The study involved the use of an anti-PD-L1 antibody, durvalumab, in combination with standard chemotherapy drugs pemetrexed and/or cisplatin. The purpose of the study was to determine if adding durvalumab improved overall survival. An update announced in 2021 indicated the study results will be available in 2023.