MedStar Washington Hospital Center
With a long history of contributions and advancements to the cancer community, the MedStar Health Washington Hospital Center is known for research, comprehensive treatments, and exceptional patient care. This has led to significant improvements in cancer care protocols and greater accessibility through regional outreach, support, and education initiatives, especially for mesothelioma and lung cancer patients.
Get Free Mesothelioma Guide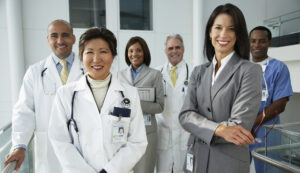 MedStar Health Washington Hospital Center
MedStar Washington Cancer Hospital Center is a respected cancer treatment facility in Washington, D.C. that opened in 1992. The medical center has an extensive history of advancements and contributions to the Washington D.C. and Virginia cancer community. One example is the Washington Cancer Institute, hosted at MedStar. The program was one of the first of its kind to receive recognition and certification of quality from the American Society of Clinical Oncology. The MedStar Washington Hospital Center has positioned itself as a prominent institution for innovative research, comprehensive treatments, and exceptional delivery of care at nearly 500 facilities.
Years of experience at the medical center have led to groundbreaking improvements and discoveries within cancer care protocols. The center has played a pivotal role in advancing cancer treatment accessibility within the region by establishing outreach programs, support networks, and community education initiatives. As a leading teaching hospital, the institute has trained many healthcare professionals, creating a strong group of skilled medical oncologists who work at the institute and in medical centers nationwide.
Washington Cancer Institute Treatment Programs
The Washington Cancer Institute at Washington Hospital Center offers advanced treatments for patients dealing with lung cancer, asbestos-related cancers, and other types of cancer. Top mesothelioma specialist and MedStar surgeon Dr. Paul Sugarbaker and many other distinguished mesothelioma experts are integral to the treatment team. The experienced staff supports specialized medical, surgical, and radiation oncology departments throughout its 11 cancer centers.
MedStar Washington Hospital Center offers individualized care for those with mesothelioma and other diseases. Treatment for mesothelioma usually includes a combination of surgery, chemotherapy, radiation therapy, and supportive care. However, the treatment course and outcome vary based on factors such as cancer site, cell type, and overall health. Approved treatments for mesothelioma help patients live longer and experience less symptoms of cancer.
Pleural Mesothelioma Treatment and Peritoneal Mesothelioma Program
As one of the best cancer hospitals in Washington, D.C., you can receive treatment at the Washington Cancer Institute for a pleural mesothelioma diagnosis. Effective treatments and care coordination are some of MedStar's strengths as an organization. Pleural mesothelioma treatment involves a comprehensive approach that may include surgery, chemotherapy, radiation therapy, and targeted therapies to address this specific form of cancer affecting the lining of the lungs. Doctors that specialize in pleural mesothelioma treatment
The experienced staff at the medical facilities Peritoneal Surface Malignancy Program, established before any other program of its kind in 1993, has made many life-extending discoveries in abdominal cancer treatment. Despite the poor survival rate associated with peritoneal diseases, the program gave Dr. Sugarbaker the opportunity to develop the Sugarbaker procedure, which combines cytoreductive surgery with hyperthermic intraperitoneal chemotherapy (HIPEC). The median survival time of patients who undergo the Sugarbaker technique is five years or more, which is longer than other standard therapies.
Clinical Trials at MedStar Health Hospital Center
Clinical trials are research studies that test new medical treatments, interventions, or procedures to determine their safety and effectiveness in humans. MedStar Health is instrumental in conducting clinical trials and research studies aimed at evaluating new therapies for mesothelioma and other cancers. Their research has paved the way for the development of targeted therapies and immunotherapies, offering renewed hope to patients. MedStar Washington has been actively involved in cutting-edge research and clinical trials, exploring the potential of immunotherapy drugs to stimulate the body's immune system and target cancer cells specifically, offering new hope to patients.
A Phase III, Open-Label Study of Maintenance Lurbinectedin in Combination With Atezolizumab Compared With Atezolizumab in Participants With Extensive-Stage Small-Cell Lung Cancer (IMforte)
Atezolizumab and Cobimetinib in Treating Patients With Metastatic, Recurrent, or Refractory Non-small Cell Lung Cancer
Study of Pembrolizumab/Vibostolimab (MK-7684A) in Combination With Concurrent Chemoradiotherapy Followed by Pembrolizumab/Vibostolimab Versus Concurrent Chemoradiotherapy Followed by Durvalumab in Participants With Stage III Non-small Cell Lung Cancer (MK-7684A-006/KEYVIBE-006)
Treatment Specialties at MedStar Washington Hospital Center
The Washington D.C., cancer center is among the best mesothelioma treatment center in the nation. Treatment for mesothelioma includes a combination of surgery, chemotherapy, and radiation therapy, tailored to each patient's specific diagnosis and stage of the disease. In some cases, targeted therapies and immunotherapy may also be used to enhance the effectiveness of treatment. Patients visiting MedStar Health for treatment have access to some of the latest and best treatment techniques.
Patients at MedStar may receive a mesothelioma diagnosis after a positive confirmation from a pathologist. For patients requiring surgical interventions, the facility is recognized for its experience in performing aggressive procedures like pleurectomy/decortication (P/D) and extrapleural pneumonectomy (EPP) to remove affected tissues and improve patient outcomes. Radiation therapy techniques, such as intensity-modulate radiation therapy (IMRT) and stereotactic body radiation therapy (SBRT) target and eradicate cancer cells while minimizing damage to healthy surrounding tissues.
Other specialists at MedStar Washington Hospital Center include:
Thoracic Surgeons
Palliative Care Specialist
Washington D.C Financial Assistance for Treatment
Patients seeking financial assistance for cancer treatment in Washington D.C. have several options. These options may include health insurance coverage and legal compensation. You can review your health insurance policies to understand your coverage for cancer treatment and other necessary medical procedures. Many health insurance plans provide coverage for cancer treatments, but it is essential to verify coverage details, including copays, deductibles, and out-of-pocket expenses.
Certain patients with limited income may be eligible for Medicaid, a state and federally-funded program that provides health coverage to individuals and families with limited financial resources. Additionally, Medicare is available to eligible individuals aged 65 and older and certain younger people with disabilities. For individuals who do not qualify for Medicaid but need affordable health insurance, the Affordable Care Act (ACA) Marketplace offers a platform to explore different insurance plans, some of which may provide comprehensive cancer care coverage.
MedStar Washington Hospital Center Address and Locations
The expansive MedStar Washington system encompasses an impressive network of more than ten hospitals and nearly 500 health clinics, along with a host of affiliated locations. This far-reaching network is strategically designed to cater to a diverse range of medical needs within Washington D.C. and beyond. Spanning across this comprehensive array of facilities are an array of specialized treatment options tailored to address the unique requirements of patients seeking healthcare services in the nation's capital. From state-of-the-art hospitals to community-centric health clinics, the MedStar Washington system ensures a comprehensive and accessible landscape of healthcare offerings for the local populace.
MedStar Washington Hospital Center – Flagship Location
MedStar Washington Hospital Center is one of the top mesothelioma treatment centers in the United States. The medical center is the largest and busiest hospital in the D.C. area, with 912 beds. It acts as a referral center for complex cases and handles 400,000 patient visits annually.
Address: 110 Irving St. NW, Washington, D.C. 20010
Phone: 202-877-7000
MedStar Health at Lafayette Centre
MedStar Health at Lafayette Centre is located in the heart of Washington, D.C. and provides a variety of specialty treatments, primary care, and support services.
Address: 1133 21st St. NW, Washington, D.C. 20036
Phone: 202-416-2000
MedStar National Rehabilitation Hospital
As the biggest acute rehab hospital in the area, MedStar National Rehabilitation Hospital treats complex cases from across the nation.
Address: 102 Irving St. NW, Washington, D.C. 20010
Phone: 202-877-1000
MedStar Georgetown University Hospital
MedStar Georgetown's extensive services encompass a 609-bed hospital and 1,100 physicians spread across various locations in Washington, D.C., Maryland, and Virginia.
Address: 3800 Reservoir Rd. NW, Washington D.C. 20007
Phone: 202-444-2000
Treatment Cost Coverage Through Mesothelioma Lawsuits
In cases where a patient's cancer is linked to hazardous exposures, such as asbestos, there's potential recourse for financial support through legal avenues like personal injury lawsuits. These legal options can serve as a lifeline for patients and their families, offering compensation that covers medical expenses, lost income, emotional distress, and more.
For personalized guidance through the labyrinth of financial assistance possibilities and additional resources, consider seeking advice from your healthcare providers, collaborating with hospital social workers, connecting with patient advocate groups, or consulting legal professionals with expertise in cancer-related cases. By leveraging these varied resources, individuals can explore a comprehensive spectrum of financial assistance and legal avenues to ease the financial burdens associated with mesothelioma treatment and care.
Disclaimer: MedStar Washington Hospital Center has no professional affiliation with Mesotheliomahub.com.