Loyola University Medical Center
The Loyola University Medical Center, formerly Foster G. McGaw Hospital, near Chicago, Illinois is one of the top mesothelioma treatment s in the Midwestern U.S. Specialists at the hospital provide care for several dozen mesothelioma patients each year.
Get Free Mesothelioma Guide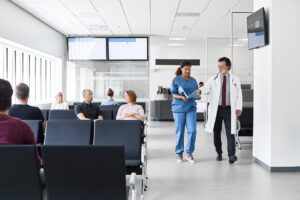 Loyola University Health System – Illinois Cancer Center
Loyola University Medical Center (LUMC) is the principal hospital within the Loyola Medicine Health System. Since 1969, the 61-acre campus in Maywood, Illinois has assisted patients throughout Chicago, Northern Illinois, Southern Wisconsin, and Northern Indiana. As a designated Level I Trauma Center in the State of Illinois, Loyola Medicine can treat any illness, including mesothelioma.
Mesothelioma, as many who were exposed to asbestos already know, is a rare disease that develops as a result of asbestos exposure. Contact with asbestos often occurred in occupational situations before the 1980s. For the last several decades, however, asbestos removal has caused even more exposure due to the fibers being released into the air. Nearly 3,000 new cases of mesothelioma occur each year.
As one of the top hospitals in Illinois, patients across the Midwest can count on Loyola Medicine to provide various quality cancer treatment options. Mesothelioma treatment at Loyola University Medical Center involves multiple methods and the expertise of a leading specialist in treating asbestos-related illnesses. The top doctors work at mesothelioma hospitals offering the latest treatment options, including Loyola University Medical Center.
What is Loyola Medical Center Known For?
For decades, Loyola has ranked well for their quality of care in all areas. The nationally recognized hospital is known for its cancer treatment, emergency medicine, trauma care, and cardiovascular surgery. The health system maintains a comprehensive approach to treatment by conveniently treating patients in one place.
The top specialty areas at LUMC include:
Extrapleural pneumonectomy
Cardiology and heart surgery
Chemotherapy
Burn Treatment
Immunotherapy
Lung transplant
Radiation therapy
Pleurectomy with decortication surgery
Gastroenterology & GI Surgery
Ear, Nose, & Throat
Mesothelioma Treatment at Loyola University Medical Center
Fighting mesothelioma requires modern technology, passionate providers, and a combination of treatment techniques. Multidisciplinary cancer treatment at Loyola Medical Center covers a full scale of mesothelioma care one can only find at the top treatment medical centers.
Dr. Wickii Vigneswaran, an expert thoracic surgeon and mesothelioma specialist, returned to Loyola recently, along with a team of medical experts not far behind. The team immediately gained interest and, from there, grew to what it is today.
Types of Mesothelioma Specialists at LUMC:
Radiologist
Primary Care Physician
Treatment Specialists at Loyola University Medical Center
Loyola Medicine recently announced a new chair of the Department of Thoracic and Cardiovascular Surgery, Jeffrey Schwartz, MD. Dr. Schwartz first joined the medical staff at Loyola in 1998. Under his leadership, mesothelioma treatment specialists at LUMC are prepared to provide the best possible care for each patient.
| | | |
| --- | --- | --- |
| Mesothelioma Specialist | Clinical Specialty | Treatments |
| Wickii Vigneswaran, MD | Pleural Mesothelioma/ Mesothelioma Oncologist | Pleurectomy and Decortication/Robotics |
| Gerard Abood, MD | Abdominal Cancer/Peritoneal Mesothelioma | HIPEC Using Robotics |
| L. Mark Knab, MD | Abdominal Cancer/Peritoneal Mesothelioma | Cytoreductive Surgery/HIPEC |
| John Hibbeln, MD | Diagnostic Radiology | |
Related: Top 5 Doctors Specializing in Mesothelioma Treatment
Mesothelioma Clinical Trails at Loyola University Medical Center
Loyola Medical Center participates in medical research by conducting clinical trials using volunteer patients. While clinical trials help researchers understand new treatments, they can also be life-saving for cancer patients with special conditions such as mesothelioma.
Nivolumab and Ipilimumab in Treating Patients With Rare Tumors: LUMC is currently participating in a phase II clinical trial measuring the effectiveness of the immunotherapy combination of nivolumab (Opdivo) and ipilimumab (Yervoy) with nearly 100 rare tumors such as mesothelioma cancer. The expected study completion date of Fall 2023 leaves mesothelioma patients in Illinois with several months to sign up.
Loyola University Medical Center Address and Information
The Loyola Health System owns and operates several hospitals, including the Loyola University Medical Center in Maywood, Gottlieb Memorial Hospital, and MacNeal Hospital. Patients can receive specialty care at more than 30 primary locations throughout Cook, Will, and DuPage counties in Illinois.
The LUMC campus in Maywood features the Cardinal Bernadin Cancer Center, which upholds the Catholic Jesuit tradition of treating the mind, body, and spirit. If you or a loved one has mesothelioma, get in touch with LUMC for more information about treatment options.
Loyola University Medical Center Address
Phone: 888-584-7888
Address: 2160 S. First Ave., Maywood, Illinois 60153
Gottlieb Memorial Hospital
Phone: 708-681-3200
Address: 701 W. North Ave., Melrose Park, Illinois 60160
MacNeal Hospital
Phone: 708-783-9100
Address: 3249 S. Oak Park Ave., Berwyn, Illinois 60402
Illinois mesothelioma patients and their families may be eligible for financial assistance that covers treatment, caregiver services, or other illness-related expenses. Victims who pursue legal representation against asbestos companies have legal rights. To find a mesothelioma lawyer or asbestos attorney, reach out to Mesothelioma Hub and we can help you match with a doctor.
Related: Asbestos Imports on the Rise
Disclaimer: Loyola University Medical Center has no professional affiliation with Mesotheliomahub.com.