Educator Files Mesothelioma Claim Against School District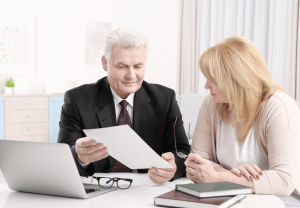 An educator fighting mesothelioma files legal action against the Philadelphia School District, claiming decades of asbestos exposure in her classroom.
Crumbling Insulation Turns Toxic
Lea DiRusso, a special education teacher who spent 28 years working in two schools that contained asbestos, was diagnosed in August. She's only 51 years old.
She started teaching at Meredith Elementary in 2002. The school is 90 years old and was built during a time when asbestos was heavily used as insulation. Today, the structure is badly in need of repairs. DiRusso remembers a near-constant layer of white dust in her classroom, which she cleaned every week.
Materials containing the toxic fibers were everywhere — in the walls, on the ceiling, and around the pipes. The dust fell when she hung artwork around the room.
"You just scoop it up," DiRusso told the Philadelphia Inquirer. "You clean it up, and you move on."
The problem: asbestos is toxic, and there isn't any safe level of exposure. Undisturbed, the substance isn't hazardous. However, when old paint peels or insulation starts to crumble, as it did in DiRusso's room, the microscopic fibers are released into the air, where they are easily inhaled or ingested.
Once inside the body, the fibers become trapped in the pleura or thin lining that covers the chest and abdominal cavities. Over time, the fibers create scar tissue that often leads to asbestos-related conditions and cancers, including pleural, peritoneal, and pericardial mesothelioma. Nearly 3,300 people in the United States are diagnosed with this rare cancer each year.
The fibers settled in DiRusso's stomach lining, and she is now fighting peritoneal mesothelioma.
Stomach Symptoms and a Surprise Diagnosis
DiRusso made some lifestyle changes earlier in 2019. She was feeling healthier and starting to lose weight. However, her stomach began to swell in early spring, and it just kept getting worse.
She spent the next few months undergoing tests and meeting with specialists and was initially told it was a simple case of gastritis combined with menopausal symptoms.
One weekend in August, DiRusso's stomach swelled so much that a pair of pants she wore on Friday didn't fit her on Sunday. She and her husband rushed to a nearby emergency room, where medical staff drained nearly four liters of fluid from her abdomen.
Doctors then performed a surgical biopsy, inserting a thin needle with an attached camera for a better view of her abdominal cavity. They also took tissue samples, which were sent away for analysis.
Her mesothelioma diagnosis was a shock. DiRusso, a non-smoker, never knew she was exposed to asbestos. The news would radically alter her life.
Asbestos: A District-Wide Problem for Philadelphia Schools
In 2018, the Philadelphia Inquirer and the Daily News released results from eight months of testing for toxic substances, including lead dust, mold spores, lead in water, and asbestos fibers in 19 elementary schools.
The investigation showed extremely high levels of asbestos fibers on multiple surfaces, including the floors of school gyms, classrooms, hallways, and cafeterias.
At Meredith Elementary, DiRusso's classroom was labeled as a 'high-priority' for cleanup, due to damaged asbestos insulation.
Although she can't rule out exposure from other sources, DiRusso's legal case against the Pennsylvania school district will rely on evidence that she was breathing and ingesting the carcinogen for years, likely from touching two heating pipes in her classroom that contained asbestos.
DiRusso says she wasn't aware the dust that fell around her was dangerous.
Mesothelioma Treatment, And An Uncertain Future
Due to a long latency period, or length of time from exposure to visible symptoms, many mesothelioma patients aren't diagnosed until the cancer has reached advanced stages.
DiRusso's cancer has spread from her abdominal cavity to her ovaries, uterus, and small bowel. In December, surgeons will remove some of the affected organs. She will also have a treatment called HIPEC or hyperthermic intraperitoneal chemotherapy, where heated chemotherapy drugs are administered directly to the abdomen to kill remaining microscopic cancer cells.
She's too sick to work, and doesn't know if she'll be able to return to the school and students she loves so much.
In a recent interview with Good Morning America, DiRusso found herself struggling to cope with the idea she won't be able to return to the school and students she loves so much.
"I just feel like I didn't get to end it the way I wanted to end it," she said.
Last updated on April 4th, 2023 at 04:01 pm