Senate Subpoenas Johnson & Johnson After Thousands of Lawsuits Claim the Company's Baby Powder Caused Cancer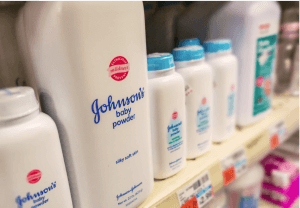 More than 12,000 people are suing Johnson & Johnson, claiming the company's baby powder gave them cancer. Now, the federal government is starting its own investigation.
The Securities and Exchange Commission (SEC) and the Department of Justice (DOJ) subpoenaed the healthcare products giant in a filing that was released last week. These agencies are requesting more information on current lawsuits, as well as any documents that may prove Johnson & Johnson knew its products contained asbestos, a toxic mineral known to cause certain types of cancer, including mesothelioma.
The SEC filed the report in December 2018, citing numerous product liability lawsuits. While Johnson & Johnson has "defended a number of these cases," there are also "verdicts against the Company, including a verdict in July 2018 of $4.7 billion."
Talc is the main ingredient in baby powder and is used in a number of other consumer products, including cosmetics, food products, vitamins, and even some prescription pills. When crushed into a powder, it has a silky consistency that absorbs excess moisture and oil from the skin. Talc isn't toxic, but the mineral is mined underground and could contain trace amounts of asbestos fibers.
Senator Patty Murray, D-Wash, the top-ranking Democrat on the Senate Health, Education, Labor, and Pensions Committee, is spearheading the investigation following a 2018 report from Reuters that suggested the company knew its baby powder contained asbestos and hid this information from consumers.
"I am troubled by recent reports of an alleged decades-long effort by Johnson & Johnson to potentially mislead regulators and consumers about the safety of one of its products, which may have resulted in long-term harm for men, women, and children who used Johnson & Johnson baby powder," Murray wrote in a letter to Johnson & Johnson CEO Alex Gorsky.
"I therefore request documents and information related to Johnson & Johnson's safety record in order to understand more about efforts by Johnson & Johnson to determine whether there were possible carcinogens in its baby power and how it presented that information to regulators and consumers," Murray continued.
Representatives said the company has been testing its baby powder for decades and hasn't found any asbestos or proof that the product causes cancer. Johnson & Johnson plans to cooperate fully and has said it will appeal any verdict that finds otherwise. So far, the company has won appeals in two different cases.
Mesothelioma Hub reached out to the SEC and DOJ, but both declined to comment.