New Immunotherapy Device Showing Promise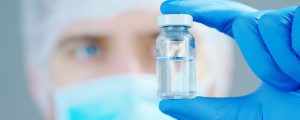 Clinical Trial Results Are Positive 
Researchers have released the results of a phase 2 STELLAR clinical trial testing Novocure's TTF-100L™ "Tumor Treating Fields" (TTF) system combined with six rounds of first-line chemotherapy drugs.
Their analysis? The therapy is working well so far.
Eighty patients from 12 different European academic and non-academic medical centers took part in the single-arm study. Each wore the TTF device, set at a frequency of 150 kHz for 18 hours a day, and received up to six rounds of first-line chemotherapy drugs, a combination of pemetrexed (ALIMTA™) and either cisplatin or carboplatin.
A portion of the patients received additional treatment with TTF, which was administered if the tumors didn't shrink after chemotherapy.
Researchers tracked patient progress for an average of 12.5 months. Overall, subjects who received the combination therapy lived an average of 18.2 months, which is double the survival rate when using chemotherapy as a standalone treatment. After one year, the survival rate was 62%. In the second year, that number dropped to 42%.
Among the 72 patients who were successfully evaluated, the treatment stopped mesothelioma tumors from progressing for an average of 7.6 months. Afterward, more than half, or 56% of the participants, required additional treatment to prevent tumor progression.
How Novocure's TTF-100L™ System Works
In May, the Food and Drug Administration (FDA) approved the TTF technology for pleural mesothelioma patients with unresectable or inoperable tumors. The device is worn on the upper torso and uses alternating electric currents to slow or disrupt cell division.
According to Novocure, the global oncology company that created TTF, different frequencies may prevent tumor growth and kill existing cancer cells while sparing nearby healthy cells.
The treatment is non-invasive, and the device doesn't appear to have any toxic side effects. It's well-tolerated among patients, with only a small percentage reporting a mild skin rash.
"There was no increase in serious adverse events when NovoTTF-100L™ was added to chemotherapy, with mild-to-moderate skin irritation being the most common device-related side effect, " Uri Weinberg, Novocure's V.P. of Clinical Development, told Mesothelioma Hub.
Looking Towards the Future
TTF technology is new but is showing promise in patients who have rare cancers like pleural mesothelioma. In 2011, the FDA approved Novocure's TTF device Optune™ to treat glioblastoma, which is an aggressive form of brain cancer.
Only 3,300 people are diagnosed with pleural mesothelioma each year in the United States. It's a rare disease, and in the majority of cases, the tumors are inoperable. New, non-surgical treatment options are few and far in between.
When the FDA-approved NovoTTF-100L™ earlier this year, it was the first new therapy available to pleural mesothelioma patients in 15 years.
Novocure says it will continue to study its TTF technology in the hopes of helping as many patients as possible. Other cancer centers in the U.S. are now training oncology staff to use the device.
Last updated on May 1st, 2023 at 06:42 pm