New Artificial Intelligence Tool Could Detect Mesothelioma, 'Asbestos Cancer'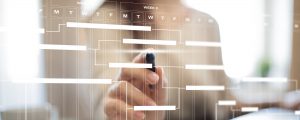 Canon Medical Research Europe — a medical imaging software firm from Scotland — and the University of Glasgow are preparing to publish a study that evaluates a new mesothelioma assessment tool using AI that can detect tumors faster.
Developed as part of the Cancer Innovation Challenge, a team of researchers has created a prototype artificial intelligence (AI) that can measure mesothelioma in patients through CT scans.
What Does This Mean for Mesothelioma?
Malignant mesothelioma has a long latency period. What this means is that people develop cancer and symptoms, on average, 40 to 50 years after their initial exposure to asbestos. Early detection has been difficult, near impossible, for thousands of medical professionals. After doctors diagnose mesothelioma in a patient, they need to determine treatment as soon as possible. Anti-cancer treatments have higher efficacy in earlier stages, and every minute counts towards the possibility of an improved cancer prognosis.
Principal scientist at Canon Medical, Keith Goatman, explains that "accurate tumor volume measurements are much too time-consuming to perform by hand. Automating these measurements will open the way for clinical trials of new treatments, by detecting even small changes in the tumor size. Ultimately, it could be used routinely in hospitals to decide the best treatment for each individual."
The research team trained the AI by feeding it over 100 CT scans that had mesothelioma tumors marked by an expert in the field. After understanding what identified tumors looked like, the AI was able to locate tumors on unmarked scans with extreme accuracy, (though no official number has been released). With the help of this new AI tool, tumor measurement can be streamlined – making clinical trials less time-consuming and more accurate.
Unfortunately (at this time), it's difficult to see where this new artificial intelligence technology will go. Treatment for mesothelioma is still limited. AI may help doctors determine a course of treatment for the patient, but it may take time before it's accurate enough to roll out to other facilities.
What can you do now.
In the meantime, if you suspect you or a loved one have been exposed to asbestos, reach out to your physician to talk more about your work and medical history. Like any form of cancer, catching mesothelioma as early as possible is key to a better prognosis and remission. If you're not sure when or where you could have been exposed to asbestos, there are known risk factors that could help you draw a clearer picture.
This story is still developing, and Mesothelioma Hub will provide updates as more information becomes available.
Last updated on December 17th, 2021 at 09:36 pm