Montana Town With High Mesothelioma Rates Brace for COVID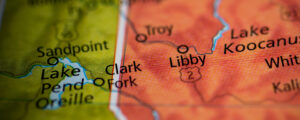 Libby, Montana, Residents Already Faced Lung Problems, Then COVID-19 Hit
In Lincoln County, Montana, the home of the now-defunct W.R. Grace asbestos manufacturing facilities, thousands of residents already had difficulty breathing. Decades of asbestos mining and airborne asbestos dust created a public health crisis for the nearby town of Libby. Thousands of residents have been diagnosed with mesothelioma, lung cancers, and other asbestos-related lung diseases.
"During the heyday, I don't think you could shop for groceries in this town without breathing some of the dust," said one of the town's residents in an interview with NPR.
Now, with COVID-19 infection rates spiking, people with weakened lungs and immune systems brace for the pandemic and wonder how they'll recover from the virus. Many of the elderly population have pre-existing conditions (most related to asbestos exposure) that already make it harder to breathe.
"It feels like someone is standing on your chest, or almost like someone stuffed a pillow down there in your lung," said another Libby resident in his 60s.
Asbestos exposure has led to one of the country's highest mortality rates related to the toxin. Mesothelioma, lung cancer, asbestosis, and other lung complications affect at least one in 10 people in the town.
| | | | |
| --- | --- | --- | --- |
| | Total Cases | Active Cases | Total Deaths |
| Montana | 30,853 | 10,474 | 337 |
| Lincoln County | 313 | 90 | 3 |
| Yellowstone County | 6,521 | 2,107 | 88 |
| Cascade County | 2,027 | 1,123 | 13 |
Source: Montana Response: COVID-19
COVID Rates on the Rise in the Mountain West
While the region avoided much of the first waves of the infection, across the Mountain West, coronavirus infection rates are rising quickly. Montana now averages more than 500 new COVID cases each day. More than half of the state's cases have come since August; 40 percent of coronavirus-linked deaths occurred in October. Wyoming, likewise, had less than 1,000 COVID cases before June; then, 1,000 new cases emerged within a week recently.
Nationwide, 17 states recorded higher numbers in a single week in October than they had for any previous week of the pandemic. Many of those states are in the Mountain West. Record new case levels have also been reported in Alaska, Colorado, and Idaho.
"We benefited from [low infection rates] early on," said a Montana medical director in an interview with the New York Times. "But in some ways, I think it did us a disservice, too, because it also created a certain level of complacency."
How the Coronavirus Affects Pre-Existing Lung Conditions
Pre-existing conditions like mesothelioma and lung cancer can make battling viral lung infections much more difficult – and dangerous. According to the Centers for Disease Control and Prevention (CDC), the virus may also be more severe among those with obesity, who have been overweight, or who have a history of smoking. Complications from preexisting lung diseases (such as asthma, COPD, cystic fibrosis, and others) can also increase the severity of the effects of coronavirus.
The CDC advises people with preexisting lung conditions to:
Continue taking current medications (including steroids/corticosteroids)
Ensure you have a 30-day supply of prescriptions
Avoid situations and products that worsen your symptoms (such as smoke)
Call your doctor if you experience any new symptoms or feel sick
Find a healthcare provider if you don't have one nearby
Last updated on August 21st, 2023 at 08:49 pm