Mesothelioma Hub Recognizes May as Brain Tumor Awareness Month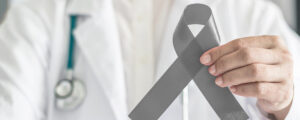 Mesothelioma causes tumors within the mesothelium, the lining that surrounds the organs of the chest and abdomen. However, this is far from the only form of cancer that needs to be made more aware of. May is Brain Tumor Awareness Month and the Mesothelioma Hub team recognizes the significance of this time, a time that is designated to raise awareness and support for further treatment and research for the disease.
What is Brain Tumor Awareness Month?
The primary central nervous system (CNS) can experience tumor development that begins in the spinal cord or brain. Moreover, doctors diagnose approximately 24,000 people with related CNS cancers each year. Since this location of the tumor is rare, information, treatments, and support can be lacking, difficult to find, or nonexistent.
May marks a time to bring the community together to share knowledge, support, and resources with those who need it. Additionally, advocates can volunteer their time and or funds to related organizations that work to further brain cancer research, development, medications, treatments, and therapies. Even something that seems simple, like sharing articles and information, or lending your support, can make a big difference in someone's life. No act is too small to offer during Brain Tumor Awareness Month.
Why It Matters
After the global pandemic and health crisis in 2020, it's more important than ever for everyone to have access to adequate health information, treatments, and support. When awareness and support are gathered for the brain tumor community and related efforts, they can go that much further. One main benefit of fundraising is funding available for scientists and researchers to develop new treatments and hold clinical trials to test them.
Related: Clinical Trail Implants Treat Mesothelioma Tumors
How to Help Raise Awareness for Brain Tumor Awareness Month
Donating money, time, or sharing information are all ample ways that interested individuals can help the brain cancer community and organizations working to advance research and medication for brain cancer tumors. The National Brain Tumor Society hosts several national events that advocates can join to lend their support.
National Brain Tumor Walk and Race
Community members from all over the US can join together for a virtual walk and race to help support the cause. The event is free to register.
National Brain Tumor Ride
Originating in Boston with success for over 26 years, the now national Brain Tumor Ride is an annual event. It's intended to not only raise awareness about the disease but to give loved ones a chance to honor those they've lost.
Head to the Hill
Educate yourself and those around you. You can do this by listening to congress members tell their stories and clear the air about needed funding for brain tumor research. Additionally, you'll learn from the officials where your money and time are going and understand how big of an impact you can make.
Gray Nation Endurance
How long can you run? This event gives advocates a chance to show support to the community while fundraising for the cause. Additionally, interested parties can sign up for a race or other available activity, rally their friends, and join the fight for brain cancer awareness.
Related: New Tumor Treatment Developments
Other Things to Consider
It can be easy to mistake symptoms of brain cancer for less severe illnesses like migraines or vertigo. Reach out or your doctor for tests if you or someone you know experience the following (recurring) symptoms:
Numbness or tingling in hands or toes
Shaking or muscle spasms
Fainting, seizures
Loss of focus and memory.
Decreasing Motor function
Headaches that keep coming back
Just because you experience one or even more of these symptoms does not mean you have a brain tumor. Call your doctor and they will assess your situation. After that, if they think it's necessary, they will administer more tests and give you an official diagnosis.