Johnson's Baby Powder Tests Positive For Asbestos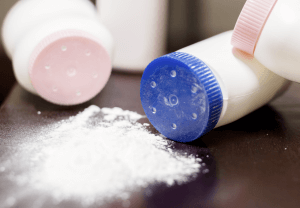 Johnson & Johnson Initiates Voluntary Recall of Baby Powder
UPDATE: Johnson & Johnson says there's no asbestos in a batch of baby powder it voluntarily recalled on October 18. The lot, a total of 33,000 bottles, was pulled from shelves earlier this month after the Food and Drug Administration (FDA) found trace amounts of the carcinogen in a bottle during quality testing. Johnson & Johnson responded by ordering its own third-party testing, and said in a statement released on October 29 that it "stands by the safety of its products." 
Johnson & Johnson is voluntarily recalling a shipment of baby powder after the Food and Drug Administration (FDA) found evidence of asbestos. This is the first time in history the personal care products manufacturer has issued a recall for its baby powder.
After months of denying the presence of asbestos in talc-based products, the company decided to recall lot #223318RB, which includes 33,000 bottles of baby powder sold by an unidentified online retail store.
The FDA found trace levels, around 0.00002 percent, of chrysotile asbestos, one of the most common forms of the toxic mineral, in samples purchased from the retailer. The lot was produced and shipped in the U.S. in 2018.
Johnson & Johnson claims it is fully cooperating with the FDA and has complied with a thorough investigation to determine the validity of the test results. The investigation is still in the early stages.
What is Talc?
Talc is a naturally occurring mineral mined and ground into talcum powder. It's used in an assortment of products, including ceramics, paper, paint, roofing, plastics, and baby and talcum powders. Talc absorbs moisture, making it an essential ingredient in cosmetic products like blush and facial powders.
In a press release issued today, Johnson & Johnson says it has conducted thousands of tests to ensure the safety of its products.
"JJCI has a rigorous testing standard in place to ensure its cosmetic talc is safe and years of testing, including the FDA's testing on prior occasions and as recently as last month — found no asbestos," the release said.
"Our talc comes from ore sources confirmed to meet our stringent specifications that exceed industry standards. Not only do we and our suppliers routinely test to ensure our talc does not contain asbestos, but our talc has also been tested and confirmed to be asbestos-free by a range of independent laboratories, universities, and global health authorities."
The FDA hasn't confirmed if the affected sample is a result of cross-contamination or broken seals. Johnson & Johnson maintains its cosmetic talc is safe, and prior investigations found no asbestos, although the company is facing more than 15,000 lawsuits related to talcum powder.
The Link Between Talc and Asbestos
The recall comes after a Journal of Occupational and Environmental Medicine published a recent study that suggests asbestos-contaminated baby powders may be linked to mesothelioma.
Researchers studied 33 mesothelioma patients who all used cosmetic talc for decades. The patients could not recall exposure to asbestos from any other source.
According to the American Cancer Society, natural talc deposits often overlap or lie close to natural deposits of asbestos. When mined, it's virtually impossible to separate asbestos from talc. This could lead to cross-contamination.
Asbestos isn't safe in any amount, and inhaling even a small amount of these fibers could lead to substantial health risks, including cancers like mesothelioma. Consumers who bought and used the possibly contaminated baby powder may have been exposed.
Not sure if you're affected? Check the bottle. Those who purchased Johnson's Baby Powder Lot #22318RB are advised to discontinue use of the product. Refund information can be found at www.johnsonsbaby.com.