Mesothelioma Hub Honors Inez St. John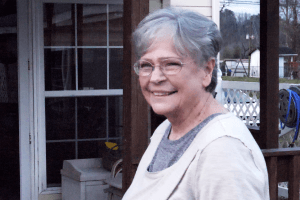 Remembering Inez St. John
Each year on September 26th, the medical community observes Mesothelioma Awareness Day. The event started in 2004 as a way to bring attention to this rare cancer, pay tribute to those who lost their lives, and create a community of support for patients and their families.
This blog post honors Inez St. John, a pleural mesothelioma patient who died on July 31st, 2019, just eight months after her diagnosis. She was 72 years old.
Mesothelioma Hub interviewed Inez and her family in February. The St. John family graciously opened their home to us and spent hours in front of the camera sharing information about Inez's diagnosis, treatment, and their experiences caring for a family member with cancer.
Inez's Story
Inez St. John was soft-spoken, but her smile lit up the room. She was kind but strong — an independent mother and grandmother who never wanted to accept help from anyone.
Her mesothelioma diagnosis in November 2018 changed all of that. Suddenly, Inez was the one who needed help.
"I've always been very independent and didn't want anybody helping me with anything," she said. "I have a hard time with it."
Inez never worked directly with asbestos. However, her husband, Billy Ray St. John, worked on the line at Capco for 14 years. The company manufactured asbestos pipe. Inez was a victim of indirect exposure, inhaling the toxic dust while washing her husband's clothing and cleaning his shoes.
"He would come home, and he would have lots of dust on him," she said. "But we didn't realize the dust was dangerous. And I always took care of the clothes. I thought it was just typical dust from a plant."
One day, she was running up the stairs at her daughter's home and couldn't catch her breath. Inez went to the doctor, assuming it was a case of bronchitis.
After several days, a team of doctors, and a battery of tests, she learned she had pleural mesothelioma, a cancer that develops in the pleura, or thin lining that surrounds the lungs.
Inez's Treatment
Inez's doctors prescribed a round of chemotherapy, hoping the treatment would shrink her tumors enough to perform a surgery called pleurectomy with decortication. During this procedure, a surgeon opens the chest cavity and removes the pleural lining surrounding the affected lung and, in some cases, part of the diaphragm. The lung itself is not removed.
Inez was in good health and never smoked. She seemed like a good candidate for surgery. It was in the operating room that surgeons discovered the cancer had spread.
"The tumor had fused to her heart," her daughter Amanda said. "The surgeon said when he went in there to scrape the lining off, he couldn't move it. The tumor was like cement."
Remembering Inez
Things went downhill quickly after the surgery. The family went to the beach towards the end of July and, after a few days, Inez asked to go home.
"She knew," Amanda said. "She wasn't feeling well and asked for hospice care."
Inez died on July 31st.
"It all happened so fast," Amanda said. "She died eight months after she was diagnosed. Eight months to the day."
Inez was the first patient who agreed to appear on camera for Mesothelioma Hub. She charmed us from the beginning. She defined southern charm. I remember the soft lilt of her accent. The sweater she wore. The delicate scent of flowers that surrounded her. She took my arm, guided me inside, then offered my colleague Makenzi, and I something to drink.
Inez laughed as she watched us move furniture around, mess with the lights, and check her microphone five times. She was a joy to interview. When she laughed, we laughed. When she cried, our eyes welled with tears.
Inez sat patiently as we asked her dozens of questions, trying to understand how someone who never worked directly with asbestos developed a deadly cancer like mesothelioma. The entire situation was unfair. And yet there she sat, smiling, tired from chemotherapy treatments, telling us she was just fine.
"You do it day-by-day," she said, with a shy smile. "I am having a great day. Some days when you can't get out of bed, it's a different story. So today's a good day."
Her family still can't believe she's gone, and how quickly it all happened.
"Love on them," Amanda said. "The patient, your spouse, your parent, whomever it may be. Enjoy every second you have with them because it goes so fast."
Mesothelioma Awareness Day isn't just about bringing attention to this deadly cancer. It's more than fundraising or talking to lawmakers, asking them to pass laws to ban asbestos for good.
It's about the patients: mesothelioma warriors like Inez, who fight, quietly and bravely, an incurable disease that robs them of their breath and, eventually, their lives.
Inez, this day, September 26th, is for you. Rest in peace, now and always.
Last updated on April 4th, 2023 at 04:05 pm