New Mesothelioma Study Examines the Success of Immunotherapy Combination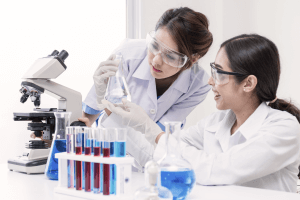 The Combination of Two Cancer Drugs Gives Researchers Hope
Phase II of a clinical trial is currently recruiting mesothelioma patients to explore the effectiveness of two medications as a second-line treatment for pleural mesothelioma.
Researchers are combining the well-known immunotherapy drug nivolumab (OPDIVO®) with ramucirumab (CYRAMZA®), an antiangiogenic drug that blocks the formation of blood vessels.
The accumulation of blood vessels contributes to tumor growth. By blocking the formation of blood vessels, researchers hypothesize that the combination of the two drugs will slow the growth of malignant mesothelioma tumors.
The single-arm clinical trial examines pleural mesothelioma patients 18 and older who have already received treatment.
Subjects participating in the study will receive both treatment medications every two weeks for up to two years.
Using Receptors to Regulate Cancer Cells
Doctors have been giving cancer patients nivolumab to help the body's immune system recognize and kill cancer cells.
The combination of two agents may lead to success in stunting cancer growths. VEGFR2 (Vascular endothelial growth factor receptor 2) regulates the cells that line the interior surface of blood vessels and lymphatic vessels. VEGFR2 stimulates cell growth.
The programmed death ligand 1 (PD-L1) is a protein on the surface of cells that helps regulate the body's immune system.
"We chose to study the combination of ramucirumab with nivolumab because of the potential efficacy of these two agents in mesothelioma," researchers noted in the description of the trial.
Researchers predict that the two agents may show a "potential synergistic activity," meaning that in combination, the outcome will produce a greater effect on the cancer cells.
The U.S. Food and Drug Administration (FDA) approved both ramucirumab and nivolumab to separately treat certain cancers. Ramucirumab is used as a treatment of advanced lung, colorectal, and gastric or gastric-esophageal junction cancer. The combination of ramucirumab and nivolumab to treat mesothelioma has not been approved and is still considered investigational.
Testing for the Future of Cancer Treatment
This trial is the first of its kind to test this combination of ramucirumab and nivolumab on mesothelioma patients. Researchers hope that the combination of treatment drugs will help keep the cancer under control by slowing or shrinking tumor growth.
Researchers seek to measure the overall survival from registration until death from any cause at two years after treatment.
The clinical trial began in 2018 and is now recruiting for phase II. Researchers estimate its completion by June 2021.
The study, titled "Phase II Study of Nivolumab and Ramucirumab for Patients with Previously-Treated Mesothelioma," is being conducted by the Hoosier Cancer Research Network and led by HealthPartners Regions Cancer Care in St. Paul, Minnesota.
Four locations throughout the United States are conducting the trial, including Minnesota, Michigan, Maryland, and Florida. Researchers estimate around 35 patients will participate.
Mesothelioma patients interested in participating can contact Arkadius Z Dudek, MD, at [email protected]