Cosmetics and Contamination: Asbestos Exposure From Personal Care Products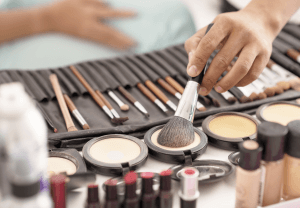 Asbestos-Contaminated Cosmetics
Americans use personal care products, from deodorant to lotions to makeup, every day. We don't always know what's in these products and often place our trust in the companies that manufacture them.
Unfortunately, these corporations don't always have the consumer's best interest in mind. Case-in-point: traces of asbestos, a toxic, microscopic fiber that's unsafe at any level, was found in makeup products at Claire's and Justice retailers. Even worse? These stores market and sell products specifically to teenagers.
In March of this year, the Food and Drug Administration (FDA) released a report citing its concern over the asbestos-contaminated cosmetics at Claire's and Justice, which included face powders, eye shadows, and a glitter cream. The document included new independent testing results and a safety alert to warn consumers about the danger.
Dangers of Asbestos in Makeup and Cosmetics
The cosmetics industry is expanding rapidly, placing thousands of new personal care products on store shelves each year. However, the FDA's power to regulate these products remains the same. The agency is still following provisions from the Federal Food, Drug, and Cosmetic Act (FD&C Act), a law passed in 1938, more than 80 years ago.
The FD&C doesn't require any review or testing of cosmetics, and companies don't have to list ingredients or reveal where the products are manufactured. While the FDA forbids the use of "poisonous, filthy, putrid, or decomposed" substances in makeup, the agency knows very little about the actual ingredients.
If products do contain traces of dangerous substances like asbestos, the FDA doesn't have the authority to issue a mandatory recall. Instead, retailers must police themselves, and don't always comply.
Government Oversight: Personal Care Products Safety Act
The FDA has been requesting more oversight for years, and it appears Congress is finally ready to act.
In May, Senators Dianne Feinstein (D-Calif.) and Susan Collins (R-Maine) introduced the Personal Care Products Safety Act. The measure aims to update federal safety rules for the personal care products industry, a subject that hasn't been addressed for nearly eight decades.
"From shampoo and shaving cream to deodorant and makeup, every American comes into contact with personal care products every day," Senator Feinstein said. "Families trust that these products are safe, but unfortunately, many ingredients have never been independently evaluated. Our bipartisan legislation…would modernize the FDA's oversight authority and give consumers confidence that everyday personal care products won't harm their health."
If passed, the law would establish a review process on specific chemicals to help companies determine whether these ingredients are safe to use, or require a warning label. Compounds on that list include:
Quaternium-15
Propylparaben
Methylene glycol/formaldehyde
Diethyl phthalate
Diazolidinyl Urea
Requirements for Personal Care Product Manufacturers:
Registration: Manufacturers must register with the FDA and disclose all ingredients.
Warning Labels: Companies will create warning labels for ingredients, including those that aren't safe for children, or for professional use only.
Online Label Database: Websites that sell products must include product warnings and ingredient lists.
Adverse Reaction Reports: Manufacturers are required to list contact information and report any severe side effects from products to the FDA within 15 days, and provide a yearly summary of any adverse events.
To fund these new requirements, manufacturers would pay a set amount of user fees to the FDA, totaling $20.6 million each year. The fee structure takes company size into account and is similar to the one already in use for both pharmaceutical and medical device manufacturers.
Food and Drug Administration (FDA) Responsibilities:
Mandatory Recall Authority: Allows the agency to issue recalls on products that are no longer safe for consumer use.
Policy for Good Manufacturing Practices (GMP): The FDA will create a new set of regulations for companies, outlining best practices for manufacturing personal care products.
Yearly Data Collection: Each year, the FDA will investigate five new chemicals, conduct safety tests, and determine whether these ingredients are safe to use in personal care products.
Health and consumer safety organizations, like the Environmental Working Group (EWG), the American Academy of Pediatrics (AAP), and several cosmetics giants, including Revlon, L'Oreal, and Unilever have voiced public support for the legislation.
Some advocates wish it went further, citing much stricter regulations in the European Union. But most agree: it's a start.
"We're closer than ever to real cosmetics reforms," said Ken Cook, president of EWG. "Most consumers would be shocked to learn that cosmetics companies can put just about any chemical in cosmetics, no matter how dangerous. The bipartisan Personal Care Products Safety Act will finally provide the FDA with the tools the agency needs to protect consumers from hazardous chemicals in these everyday products."
Last updated on September 22nd, 2022 at 06:07 pm