New Anti-Mesothelioma Antibody Uncovered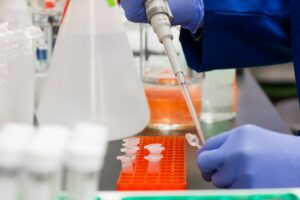 Antibody SKM9-2 Shows Sensitivity for Mesothelioma
Dr. Shoutaro Tsuji of Gunma University of Health and Welfare has uncovered an anti-mesothelioma antibody, often referred to as an antibody drug, to be used as an immunotherapy treatment. These treatments engage a patient's body's immune system to fight against different conditions.
This comes after the antibody HEG1 SKM9-2 showed a high sensitivity for mesothelioma, meaning scientists could use SKM9-2 as a mesothelioma biomarker. Additionally, medical professionals can use this biomarker to develop other anti-mesothelioma immunotherapies. This mesothelioma antibody shows promise for new treatment opportunities for patients. In this article, Mesothelioma Hub will detail the information you need to know about the mesothelioma antibody; SKM9-2.
Can Antibodies Diagnose Mesothelioma?
Malignant mesothelioma is considered treatment-resistant cancer, and medical professionals often refer to mesothelioma as an indistinct cancer. Mesothelioma medical centers refer to indistinct cancers as those whose tumor mass shapes are round, oval, lobular, or irregular. Mesothelioma does not have precise genetic cancer biomarkers and is oftentimes challenging to diagnose. Biomarkers are essential to the establishment of antibody drugs that utilize the immune system to fight cancer cells. Anti-mesothelioma antibody drugs need a robust genetic biomarker, such as the SKM9-2 biomarker. A strong genetic biomarker tells the immune system which cells are mesothelioma cancer cells, allowing them to fight the cancer cells.
Mesothelioma cancer cells attract the SKM9-2 antibodies, allowing doctors to use them in a few ways. For example, medical professionals can introduce SKM9-2 antibodies into a patient's body to find and destroy mesothelioma tumor cells. This method would allow scientists to find and diagnose mesothelioma as well as create an effective anti-cancer treatment. Dr. Tsuji and his team at Gunma University are working to develop SKM9-2 as a traditional new-generation anti-mesothelioma antibody drug.
What is Glycopeptide?
The SKM9-2 biomarker is a glycan-related antibody drug, which is related to the glycosylation cell that is altered by cancer transformation. Glycopeptides are a type of serum biomarker that can improve the diagnosis and treatment of malignant pleural mesothelioma. Serum biomarkers are substances within the serum that change during the development of mesothelioma tumors. These biomarkers are a type of anti-mesothelioma antibody used for treating bacterial infections as they inhibit the cell wall synthesis of the bacteria. This prevents the bacteria from being able to divide and multiply.
Additionally, medical professionals can use glycopeptide antibodies as a treatment for mesothelioma cancer. These anti-mesothelioma antibodies can attack the mesothelioma cancer cells and halt their multiplication and metastasis. Glycopeptide antibody drugs are of microbial origin and are composed of glycosylated cyclic or polycyclic nonribosomal peptides. There are several types of current glycopeptide drugs including:
Dalbavancin
Dalvance
Firvanq
Kimyrsa
Orbactiv
Oritavancin
Telavancin
Vancocin
Vancomycin
Vibativ
Best Ways to Diagnose and Treat Mesothelioma
If you are experiencing mesothelioma symptoms, there is hope. Anti-mesothelioma antibodies such as SKM9-2 are a promising new wave of mesothelioma treatment. If you are looking for a diagnosis or medical treatment for your symptoms, Mesothelioma Hub can assist you. We have a team of experts on our side to work alongside you through the trials and tribulations of a mesothelioma diagnosis.
Last updated on March 28th, 2023 at 07:07 pm